Potential Merger Isn't Slowing Education's IT Modernization Plans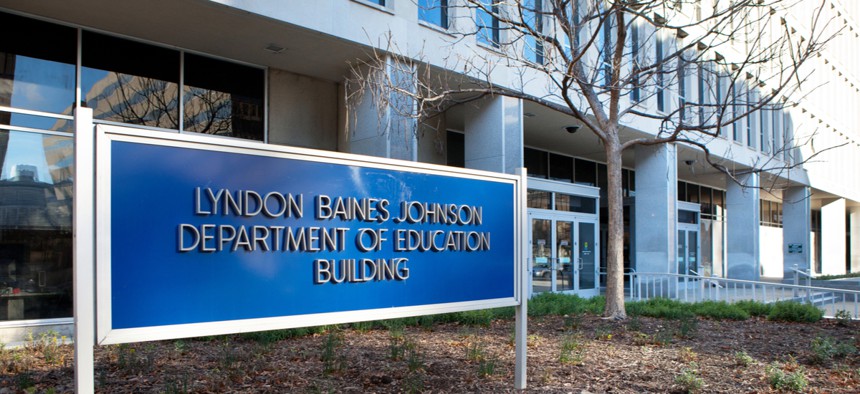 Major technology changes would need to be among the first discussions if the administration's wish to merge the Labor and Education departments were to come true, according to IT officials from the latter agency. But, at least at Education, IT is business as usual for the time being.
"We're standing pat; status quo," Walter McDonald, Education's director of IT Program Services, said during the Digital Government Institute's annual 930gov conference Tuesday.
The Trump administration proposed merging Labor and Education into the Department of Education and Workforce in a wide-ranging government reform plan released in June. McDonald said the department is pushing forward on its IT modernization efforts as planned. If anything, he said, those efforts would make any potential merger an easier transition.
"We believe we're laying the floor so some of those things that would be impacted—for instance [Federal Student Aid], where we have, maybe, dual governance processes, or security operations centers, stuff like that—under the reform effort, we had already started looking at where we could modernize the organization," he said, later telling Nextgov that Education's IT should be "able to support any organization."
Such a merger would require congressional approval. Department leaders need to see an official mandate before they put resources toward planning a move.
"I would not start talking until I had some type of law or policy directive—that's how feds move," Steven Corey-Bey, chief of enterprise architecture and the Investment and Acquisition Management team, both under McDonald's IT Program Services division, told Nextgov. "I would need something that said, 'You will be doing this by date X,' before I really started spinning any wheels."
As it stands, there are too many questions that need to be resolved, such as whether the entirety of both agencies would be absorbed by the new department. For example, the student aid program could be spun off into the Treasury Department, Corey-Bey offered.
"What's going to happen, who's going to be affected?" he said. "That would determine how we go about this."
However, if such a law or directive were put in place, Corey-Bey said one of the first meetings should be between the agencies' IT executives.
"You couldn't bring off a merger like that without a really firm strategy," he said. "You already know that there's duplication, just from the fact that there's two agencies coming together. So, you would have to define a strategy. Some of the things that we're doing you'd absolutely want to visualize those two businesses and then rationalize across those two businesses."
During the panel discussion, Corey-Bey went deeper into the value of having a strong IT strategy.
"Strategy-based IT governance—that is, running your IT operation, supporting your business with IT based on a strategy—is not going to go out of style," he said. "I don't care what agency you're with, whatever organization you're with, you need to have a strategy, you need to have an architecture, you need to support the decisions that you make with good capital planning and investment control."