FCC Captures Second CIO 100 Award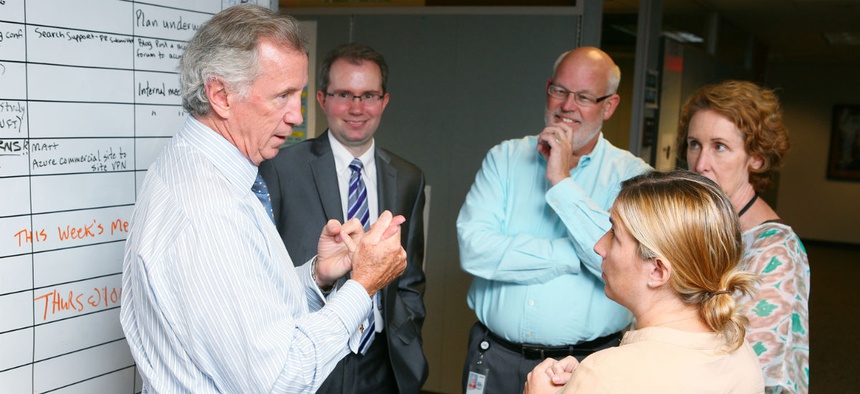 The Federal Communications Commission's innovative IT efforts are not just saving taxpayer dollars; they're turning heads worldwide.
On Monday, FCC was selected as a 2017 CIO 100 honoree, the second time FCC has earned the global accolade under the leadership of Chief Information Officer David Bray. In 2015, FCC was one of only five public-sector organizations to receive the award, having demonstrated early successes in its cloud computing efforts.
In August, the commission will be recognized as a two-time winner—a rare accomplishment for a federal agency—for a massive cloud migration of its IT assets and reducing its spending on legacy IT systems by 35 percent.
» Get the best federal technology news and ideas delivered right to your inbox. Sign up here.
The trick?
Bray, who spoke with Nextgov about the recognition, credited the team around him as far more important to FCC's successes than technology.
"The No. 1 thing is people," Bray said. "It was encouraging everyone in the organization, both IT and the non-IT programmatic elements, to recognize the rapidly changing world. It meant we had to rethink how we deliver services to make things more streamlined for the public."
Bray began his tenure at FCC in 2013, an agency that had employed nine CIOs in the prior eight years, and immediately focused on human capital. He brought in a mixture of veteran feds and talented Silicon Valley technologists, and gave them the opportunity to experiment with solutions, even if it meant failing.
"We wanted to operate like internal venture capitalists," Bray said. "If you have ideas that might move the organization forward, make the pitch like you're pitching to a VC."
Bray believes that model could spur IT innovation in other agencies, much as it does in private-sector companies.
It has certainly paid dividends at FCC. In one of FCC's early wins, the agency saved several millions of dollars replacing its Consumer Help Center with a software-as-a-service solution. That effort was headed by one of Bray's former technical advisers, Dustin Laun, who researched SaaS options despite the government's tradition of building internal systems.
That pitch resulted in a fully functional Consumer Help Center at one-sixth the cost.
"The biggest thing, regardless of if they were a new person or existing person, is that I wanted to reward creative problem-solvers," Bray said. "I wanted to give them permission to take calculate risks, and, as was the case in the past, to fear failure. Sometimes, things won't work out, and that's OK, we'll pivot. I'd rather be moving with speed and adapting."
Those small efforts catapulted FCC to the cloud computing stratosphere, culminating with Operation Server Lift, moving racks of servers to facilities managed and maintained by a commercial cloud provider.
As a result, FCC reduced its contracted workforce by almost half—from approximately 400 to 200—and cut legacy spending by at least 35 percent, freeing up additional dollars in its $64 million IT budget. FCC accomplished the shift without additional funding resources but will be able to use savings from the effort to focus on mission-specific activities such as its new website. And with perhaps its most challenging IT issue addressed, Bray said FCC can turn some of its attention elsewhere.
Externally, Bray said he's happy to continue championing the government's efforts to improve the way it delivers IT solutions and services. Bray said he and other FCC officials often receive inquiries from other agencies "about how we did it" and always make time to meet with them.
"The way we did things in the 1990s doesn't work anymore," Bray said.