Agencies Embrace the Year of Multicloud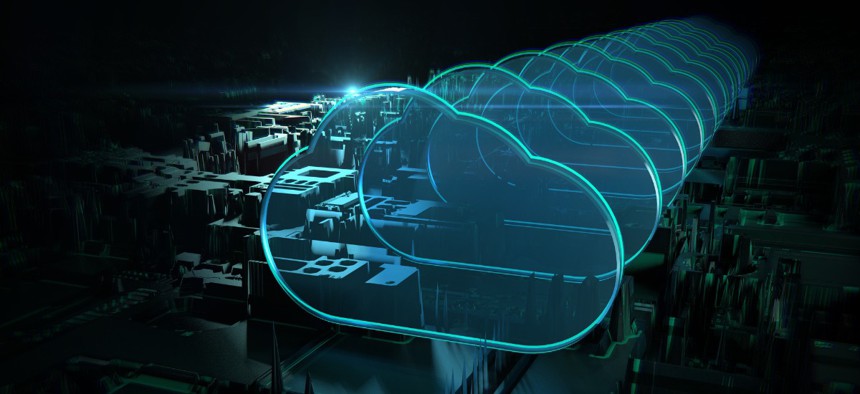 By choice or chance, many agencies are already using multiple cloud technologies but that doesn't mean they have a strategy.
About $8.5 billion: That's how much the federal government is expected to spend annually on cloud computing by fiscal year 2023, according to Bloomberg Government.  
The steady shift to embrace cloud modernization in recent years took a massive leap when the pandemic hit. Many of the pandemic-necessitated stopgap cloud-based measures—which previously may have been categorized as shadow IT—have yielded tremendous short-term value. More importantly, however, agencies realized the value of the cloud is immeasurable and are accelerating their cloud modernization efforts—and the government is increasing funding to support those efforts.
Enter Multicloud
By 2022, over 90% of global enterprises will rely on a mix of on-premises/dedicated private clouds, multiple public clouds and legacy platforms, IDC reports, marking 2021 as the year of multicloud.
Multicloud is the use of multiple cloud computing and storage services in a single heterogeneous architecture. This also refers to the distribution of cloud assets, software and applications across several cloud-hosting environments. With a typical multicloud architecture utilizing two or more public clouds as well as multiple private clouds, a multicloud environment aims to eliminate reliance on any single cloud provider.
By choice or chance, many agencies are already using multiple cloud technologies. But this doesn't always mean they have a strategy to optimize those investments, especially with the added complexity that managing multicloud presents to IT and security teams. Agencies that can successfully manage this turbulence stand to win big with more secure, cost-effective and agile IT environments that let them focus more intently on their mission. 
As more agencies look to implement multicloud strategies or optimize their current multicloud investments, they increasingly find themselves looking for "as-a-service" strategies for managing and securing these complex environments. That's where secure multicloud as a service, or MCaaS, comes into play.
Getting Beyond the Pilot
Migration to the cloud sometimes stalls after a pilot because upfront preparation didn't fully assess the costs of legacy operations or set clear goals for the implementation. If agencies don't understand the total operating cost of their current, on-premises implementation across the full lifecycle, the pricing of a cloud implementation can look more expensive than the status quo. 
Agencies also must identify leaders who can spearhead cloud initiatives and ensure they have skilled staff to support the implementation—a formidable challenge in a competitive job market. 
Cloud Smart: More than Lift and Shift
Agencies are also challenged by the very mandates designed to enable modern operations. The Cloud Smart strategy directs agencies to rationalize their application portfolios to drive federal cloud adoption. 
Lift and shift is the simplest approach, but it ensures agencies won't get the best value from the cloud. That's because 84% of on-premises workloads are overprovisioned, according to a study by Bain & Company and TSO Logic (now AWS Migration Evaluator). If those workloads are simply shifted to the cloud, the agency is still paying for more computing than it is using—and is likely to pay 10 to 15% more than on-premises, according to Bain and TSO.
And, Then There's Security and Compliance
The complexities of multicloud are particularly amplified when dealing with the challenges surrounding security and compliance. Every federal agency has various types of data requiring different levels of security and compliance, and they must comply with numerous security requirements and standards from the General Services Administration's FedRAMP and the National Institute of Standards and Technology. 
Agencies must take into account their role in operating and securing multiple public and private cloud implementations. This ranges from analyzing data, applications, and workload, to understanding the security and compliance necessary for them, to determining how to migrate, manage, and maintain all of those systems and ever-changing requirements.
Agencies must design for multicloud security and compliance from day one. It must be infused from the start versus bolted on as an afterthought, which can have devastating consequences. Mapping interdependencies among data, systems and clouds is complex but paramount. It takes a team to ensure success, including business owners, internal cyber stakeholders, and external multicloud and security partners. 
Secure Multicloud-as-a-Service, Please
Secure MCaaS is a comprehensive managed cloud security solution that protects and prevents enterprise and customer data, assets and applications from advanced security threats and cyberattacks across multiple cloud infrastructures and environments while complying with all relevant government regulations and guidance. It frees agencies to focus on the mission while entrusting cloud operations and security to the experts. MCaaS simplifies the complexity of multicloud while addressing security and compliance requirements. 
Not only that, MCaaS can shorten the path to the cloud, increasing productivity while reducing overall total cost of ownership. Agencies can also optimize the benefits of the cloud and move more quickly to leverage automation, software-based analytics tools, and capabilities utilizing emerging technologies like artificial intelligence and machine learning.
A Fully Baked Strategy Is Key 
The complexity that comes along with multicloud does not need to halt progress in its tracks for public sector organizations that plan carefully. The key is a fully baked multicloud strategy and MCaaS approach that streamlines and optimizes planning and unifies governance, security, and management across all cloud environments. It helps agencies fully leverage and optimize their cloud investments to ensure success across every stage of the cloud journey—assess, design, build, migrate and innovate. Secure MCaaS can rewrite the cloud trajectory for agencies, no matter where they are in the cloud journey.  
Phil Fuster is senior director of public sector sales at Rackspace Government Solutions.