Beeple, Meet CPARS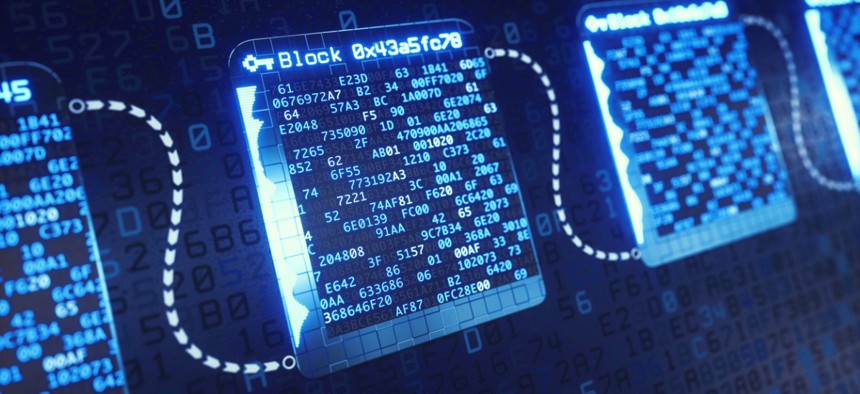 Forget art. What if agencies used non-fungible tokens for reporting contractor performance?
The recent $69 million auction of a digital file by artist Beeple raised a lot of eyebrows. It also introduced a new term into the popular lexicon: non-fungible tokens, or NFTs. As NFTs disrupt the staid art market, it's worth considering implications for other sectors.
By way of introduction, NFTs are exchanged on blockchains, which makes them highly secure and transparent. Bitcoin, a cryptocurrency, is also exchanged on a blockchain but is a fungible token, like physical currency. The auction of Beeple's NFT revealed that the blockchain doesn't have to just be about Bitcoin anymore. While in Beeple's case, NFTs are unique digital art works, they can also represent ownership of a physical or impermanent object. If we reduce NFTs to their essence—a "tokenized" item of value exchanged on a blockchain—we open the door to endless potential use cases.
In particular, NFTs can be used to modernize another staid industry, federal acquisition—in particular, the always-vexing Contractor Performance Assessment Reporting System, or CPARS.
From CPARS to Tokenized Performance Ratings
CPARS is the system used in federal acquisition to collect agency appraisals of contractor performance. We now know, however, that CPARS struggles to record performance information in a transparent, timely, fair and reliable manner that effectively differentiates performance levels. Specifically, the measures captured by CPARS are overly broad, inputted infrequently, and without an assurance that federal staff closest to the work provide the actual ratings. And yet valid and reliable data on contractor past performance are crucial; just as consumers rely on Yelp for consumer reviews, the federal government needs CPARS to be a reliable record of contractor performance.
What might CPARS take from NFTs? Surprisingly, a lot; CPARS capture an asset—a contractor's reputation for conducting quality work on time and on budget—that can be represented as a token. Once issued, we can use a blockchain to track exchanges of the token transparently, securely and reproducibly. In short, we can create tokenized performance ratings.
Consider the following scenario: AlphaOmni is awarded a multiyear, multiaward blanket purchase agreement from the Education Department. Education awards AlphaOmni and every BPA vendor 500 tokens (EdT) that are recorded on a blockchain. AlphaOmni is also awarded a BPA task order for technical assistance to schools to mitigate learning loss due to COVID-19. Pursuant to its Quality Assurance Surveillance Plan (QASP), AlphaOmni commits to performance criteria and the EdT that Education will award or debit based on AlphaOmni's performance. Education assesses each milestone on a scale, from 1 ("unsatisfactory") to 5 ("exceeds expectations").
Each quarter, AlphaOmni submits a self-assessment of their performance, along with their current EdT balance of as collateral (e.g., 500 tokens for the first submission). Education reviews AlphaOmni's performance and debits or credits AlphaOmni's EdT balance. For example:
In the first quarter, AlphaOmni is rated as "satisfactory" and 500 EdT submitted as collateral are returned;
In the second quarter, schools indicate dissatisfaction with the promptness of AlphaOmni's assistance, resulting in a loss of 100 EdT and a net balance of 400;
In the third quarter, surveys indicate high satisfaction with AlphaOmni's assistance and financial monitoring reveals that hours incurred under contract are less than anticipated. As a result, Education awards AlphaOmni 200 additional EdT, for a net of 600;
This continues until the conclusion of the period of performance, when AlphaOmni has 800 EdT, indicating strong performance.
Using NFTs would restore the aspects of a quality performance appraisal system—transparency, timeliness, fairness, reliability, and differentiation—currently lacking in CPARS. Even better, performance feedback is tightly coupled with the allocation of token, making clear to all parties what counts as strong performance as well as drivers for improving performance. And by using blockchain, work can proceed under a so-called "smart contract", alleviating security concerns.
What about the burden of tokenized performance ratings? The system does require frequent and proximate appraisal, placing a potentially higher burden on agency staff. Yet this need not be the case; by using criteria taken directly from contractor performance (e.g., monthly budget reports, customer satisfaction surveys) agencies can eliminate the need for direct feedback. Moreover, advances in document scraping and analysis could further reduce the effort to link project performance to tokens.
Where To Next?
Tokenized performance ratings would transform federal acquisition. What NFTs do well—transparency, efficiency, reproducibility, security, and scalability—are all imperatives for federal procurement. I've outlined one possible application, but there's no shortage of other use cases.
General Services Administration should solicit ideas about how concepts like NFTs and blockchains might revolutionize federal contracting. Just as Beeple redefined the boundaries of the art world, the federal government can and should re-imagine federal acquisition by encouraging collisions between powerful crypto tools and the ever-present need to modernize how government agencies buy goods and services.
Justin Baer, Ph.D., is vice president of program evaluation and policy analysis at Fors Marsh Group.