Building for the Future of Government When IT Modernization Isn't Just a Technology Upgrade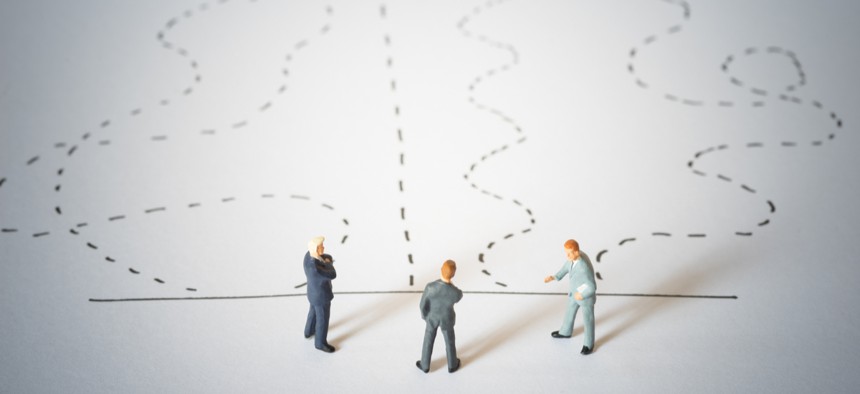 Recently, as agency leaders have prioritized IT modernization as a catalyst to prepare their agencies for the future, technology has been leaned on as the "big fix" that will single-handedly solve every existing challenge and eliminate future ones. Technology is innately an important part of modernization efforts, including the transitioning of legacy systems. And, while it is an excellent tool for reducing costs, increasing productivity, and delivering consistent, high-quality service to citizens, it is not very effective when applied in a vacuum. Because of this, it is vitally important that agency leaders take a more holistic view of their agency mission, prevalent engagement and service delivery models, and the people they serve when approaching modernization initiatives to ensure the desired outcomes are achieved.
Bring in the Right Domain Expertise
There are a number of factors and steps that need to be considered. One of the first steps is to enlist domain experts who can bring an understanding of agency operations and experience from addressing similar challenges across both government and the private sector. These experts, who may be former agency subject matter experts or private sector professionals, need to take a 360-degree view of the agency from both a technology and process perspective. Most importantly, they need to be able to ask "what problem are we trying to solve?" rather than just asking "which technology should we implement?"
While these experts can bring insights that can complement the knowledge of the agency's project team, but it's also crucial that these experts ensure that they work closely with the agency's project team and that they earn their trust. According to a recent study, 70% of change programs in the public sector fail to achieve their goals due to employee resistance and lack of management support. So, a cohesive partnership between these domain experts and the team is a key element in reducing the risks of failure.
Diagnose the Problem Before Applying a Solution
It's imperative when approaching a modernization project to focus on the outcomes and analyze how to improve the processes involved before selecting the technology that can support them. There are so many exciting technology advancements, especially around digital transformation, but if you take a technology-first approach instead of understanding the outcomes and processes involved, you may not see the benefits it is supposed to deliver. One example is using robotic process automation to automate labor-intensive, routine transactions. On the surface, this seems like an ideal application of technology, but if the processes involved are flawed, then you're just automating a broken process—and potentially leading to bigger problems. Looking at the processes is the real first step toward modernization and one that is supported by technology rather than driven by it.
Applied Innovation vs. Unproven Technology
Once the processes have been dissected and analyzed, the domain experts and agency's project team can decide if there is a technology tool that will help achieve the project's goals. However, as we've seen technology continue to drive federal IT, it has become increasingly important to distinguish between bleeding-edge technology that appears exciting on the surface versus leading-edge, proven technology that will enable a tangible and positive impact on mission outcomes. It's important to leverage applied innovation, which is new approaches and technology that have an established track record in government or the private sector. Agency leaders can't afford to take the risks that come with being the "beta testers" of unproven technology solutions, so it's necessary to identify real-world innovations that will generate the benefits promised, with a low risk of failure.
Don't Underestimate the Organizational Impacts
Just like athletes have difficulty re-training muscle memory, employees who have done the same job in the same way for many years will sometimes struggle to adapt to a new way of doing things. As mentioned previously, it's critically important that the agency staff know that they are an essential part of modernization programs and have an integral role in enabling the success of the initiatives. Modernization requires a deep understanding of the inner workings of an agency, especially its processes and the people behind the operations, but also to gain key insights into the culture and how best to generate the change with the support of the staff—and not despite their resistance.
Building for the Future of Government
It would be easy to infer from the term that IT modernization is just about upgrading the agency's IT infrastructure and applications, but with broader expectations and larger mandates driving it, it's pretty clear to see that it is more than just modernizing IT. It is being leaned on as the platform on which the government is building for the future. Because of these expectations, it's important that agency leaders view this as an opportunity to enable a paradigm shift in how government services are delivered to citizens while achieving the larger agency mission.
Raj Parameswaran is president of information technology for MAXIMUS Federal.