Are Government Records Management Practices in Peril?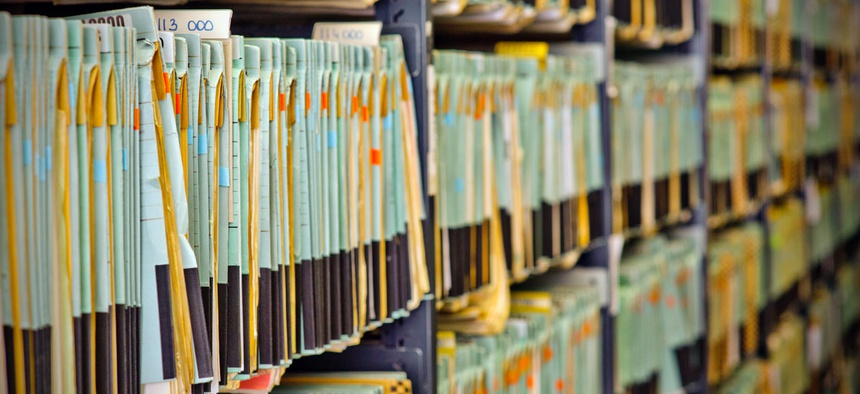 In government, records management is a real problem.
Almost four years after a series of executive orders by the Obama administration designed to reshape the way federal agencies manage the massive number of records they keep, it appears little progress has been made toward true modernization.
The evidence of the lack of progress in records management – the government collects data on everything from American citizens to incoming cargo shipments – continues to mount. Two weeks ago, the Government Accountability Office found serious flaws in agencies' plans to automate data archival based on official data collected and compiled by GAO.
The GAO audit coincides with a new report that suggests federal employees themselves aren't confident in their agencies' records management practices. The report, conducted by market research company Market Connections and storage management company Iron Mountain, found 85 percent of 150 records management professionals in government "are not fully convinced" current records management practices are meeting agency needs.
If the role of a federal records management professional were played by Tom Hanks circa "Apollo 13," he'd be saying, "Houston, we have a records management problem."
"The National Archives and Records Administration and Office of Management and Budget have made great strides in providing needed records management oversight, but much still needs to be done to close the confidence gap at the agency level," said Tyler Morris, director of product management for Iron Mountain Government Services. "Agencies need to look at their overall information management posture and consider what changes they need to make to further the adoption of an enterprisewide strategy to better their information's security, governance, access and value."
In other words, the administration has released guidance to be built on, but agencies are wading through the implementation phase. It's a struggle, as evidenced by a few other interesting factoids from the Market Connections study. Just 33 percent of respondents were "very confident" their records were not at security risk, which means two-thirds of those surveyed believe their data isn't safe.
In addition, in the event of a disaster, only 41 percent of those surveyed believe they could access critical information. Only two years removed from Superstorm Sandy, that kind of perilous scenario is not particularly uplifting.
The study isn't all doom and gloom, though. Training appears to make a big difference at the agency level, with 98 percent of respondents claiming it was "somewhat" or "very effective." Unfortunately, only 39 percent of those employees surveyed receive formal training to "appropriate manage records in their immediate control." Even worse, 17 percent didn't receive any training at all, which suggests a major missed opportunity.
Other points of improvement include increasing internal engagement and using more tools. Only 58 percent of respondents could even identify their records liaison officer, and more than one-quarter never communicate with RLOs on matters of policies or best practices in records management.
Finally, only about one-quarter – 28 percent – of respondents felt they had enough tools in the arsenal to comply with existing government regulations in data retention and archival. In this ever-evolving Internet-of-Things era, the government needs better tools if it wants to follow the law.
(Image via gibleho/ Shutterstock.com)