The next big space business: satellite pictures of other satellites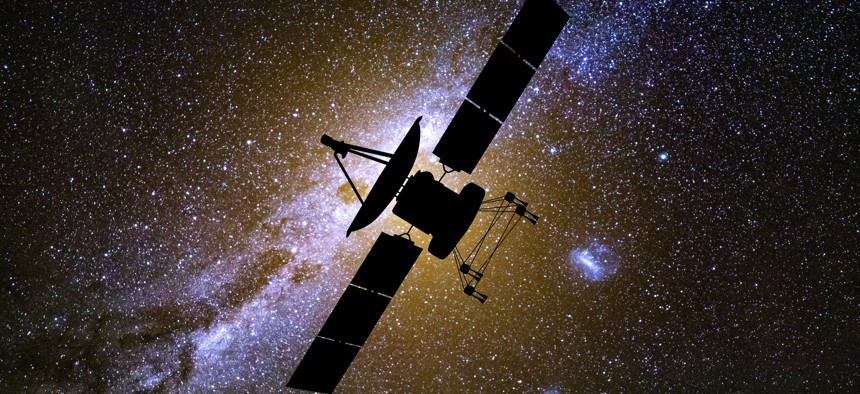 As space debris proliferates and new weapons appear, a new market is rising to document it all.
Satellite images, long used by militaries to track developments on Earth, are increasingly being used to keep tabs on the proliferating objects in space. 
Maxar Technologies has been filling U.S. government orders for images of objects in space for "several years," said Kumar Navulur, the company's director of strategic business development. The subjects include not just objects in highly populated low Earth orbits but in medium Earth orbits, geostationary orbits, and even beyond. And since December, when Maxar received a license from the National Oceanic and Atmospheric Administration, the company has been selling space imagery to satellite and launch companies looking to keep track of their orbiting assets.
Navulur said imagery can help solve problems of space-traffic management—for example, "As more satellites are being launched with so much debris, how do you maneuver around that and make sure that you can get [new satellites] to that orbit?"
Navulur said that while terrestrial cameras remain better at taking images of stationary objects, satellite cameras offer several advantages. "The timeliness would be the number one" feature, he said. "Our goal is to deliver [images] within 72 hours."
Another is that having multiple image satellites in orbit allows Maxar to photograph an object from multiple vantage points and better track it as it moves.. 
"The way we do this is we have modeling-and-simulation software," said Navulur "Modeling and simulation will say that 'Here's a connection that's going to happen tomorrow or three days from now or a week from now'."
U.S. military officials have been sounding the alarm on strangely-behaving satellites ever since the 2014 launch of a Russian satellite that moved in a novel way and came very close to two Intelsat satellites. Russia has since launched satellites that can attack other satellites. And on the eve of its expanded invasion of Ukraine in 2022, Russia staged a coordinated (ground) attack against Ukraine's satellite communications. 
Space Force officials have described "space situational awareness" as a key need, a market that could reach $1.78 billion by 2028.
But since the satellites taking pictures of objects in space are the same satellites that the world relies on for images of the Earth, expect a lot more launches to better cover both the ground and the sky.