FCC Chair: Spectrum authority and global policy are key priorities in the 5G era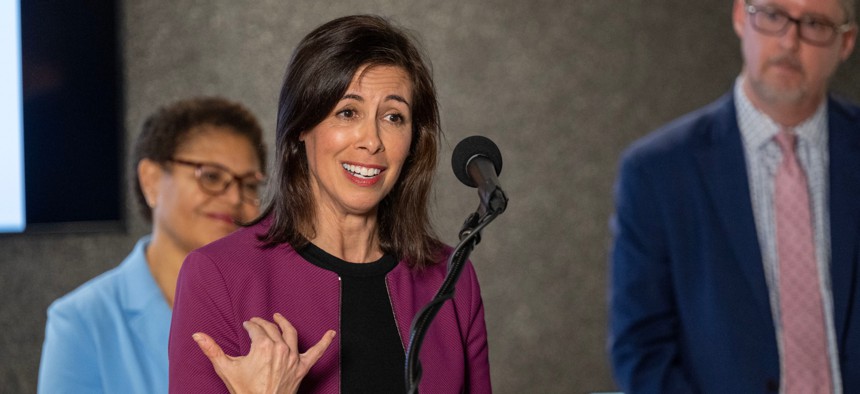 In the early days of deploying 5G broadband connection in the U.S., Federal Communications Commission Chair Jessica Rosenworcel believes that innovation in interconnectivity stands will increase, which will prompt the continued need for strong national security policy action.
Speaking at a Center for Strategic and International Studies dialogue on Tuesday, Rosenworcel underscored the national security implications for 5G deployment, touching on harmonizing global wireless policy and authorizing more available mid-band spectrum in the U.S. to support 5G connection rollouts nationwide. 
"What I want is [for] that innovation to take place on American soil with democratic values," she said. "Because when we do that, we grow our economy here but we also export those values to the rest of the world."
Congressional activity intersects with Rosenworcel's priorities in that granting the FCC control over repurposing more mid-band spectrum requires Congress's ability to renew the Spectrum Auction Authority after it lapsed in March.
"It is absolutely essential we get it back, because it shows that we are committed to continuing this practice of making airwaves available for new commercial use, and using creative tools like auctions to do it," she said.
On the legislative front, Rosenworcel commended the manufacturing provisions authorized in the CHIPS Act, particularly around semiconductors, which she called a "smart" move to add resiliency and security into the nation's tech supply chain.
"It makes sure that our supply chain for these devices won't be at risk," she said. Investing in other domestic radio and network equipment vendors is another feature of the law that is pivotal to blocking untrusted suppliers –– namely the Chinese-manufactured telecom brands ZTE and Huawei –– which translates to stronger national security posture in the U.S. 
She also confirmed that the FCC is still working with Congress on securing funding for its program to replace any suspect vendor equipment deployed in the U.S. for free under an initiative called Rip and Replace.
"We still have some work to do with Congress to make sure we get the funds to do that but we have sent a signal to the world," she said. "We don't trust this equipment, and you shouldn't either. And there are definitely other countries who have heard us loud and clear, and are also making efforts to restrict the use of this equipment in their networks."
Hence, the development of alternatives for spectrum equipment plays a large role in safeguarding vulnerable networks from potential adversarial interruptions.  
Despite 5G's increasing role in supporting the federal government's national security agenda,  Rosenworcel also advocated how 5G wireless networks can support the private-sector economy as well. 
"Commercial security and national security are gonna go hand in hand," she said. "And we're gonna have to develop more cooperative relationships so that we talk about it together and work on it together, and I think that's true for [the] government, the private sector, both of us."