NASA Authorization Act Aims to Strengthen U.S. Space Exploration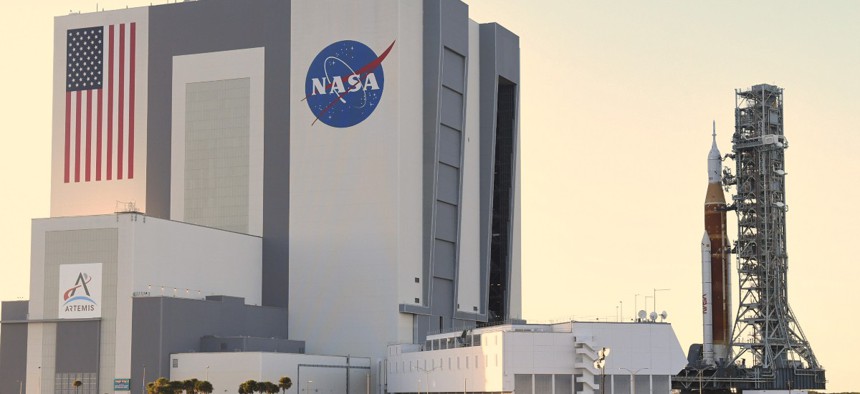 The NASA Authorization Act was passed as part of the CHIPS Act and is the first authorization bill for NASA in five years.
Congress passed the first NASA authorization bill in five years when it passed the Creating Helpful Incentives to Produce Semiconductors for America, or CHIPS Act, last week, which extends International Space Station operations and supports NASA's Artemis missions.
The National Aeronautics and Space Administration Authorization Act of 2022 was included in the now-passed CHIPS Act of 2022, which provides NASA the guidance necessary to advance U.S. space initiatives and investments to establish the United States' leadership in this area. 
"Congress just took a significant step to bolster our national security by passing the CHIPS Act of 2022," Senate Committee on Commerce, Science and Transportation ranking member Roger Wicker, R-Miss., said. "The NASA provisions in this legislation will propel America into deeper exploration of space and ensure a strong competition against China on the final frontier."
The NASA Authorization Act of 2022 will focus on areas such as exploration, science, aeronautics, space technology and STEM engagement, among other things. 
The act formally creates the Moon to Mars Program in an effort to have people explore Mars, and it allows for the fulfillment of the Artemis Missions to the moon. It also extends International Space Station operations from 2024 through 2030.
Additionally, the act requires NASA to: continue its program to search for life beyond Earth; utilize a "near-Earth object survey to detect, track, catalogue and characterize objects near Earth," meeting a certain size criteria and using a space-based infrared telescope to detect the aforementioned potentially hazardous objects; create a research and development project to reduce greenhouse gas and noise emissions from aircrafts; research and test to support the safe integration of unmanned aircraft systems into the national airspace system; and continue to develop nuclear propulsion technology for humans and robots to use for Mars missions.
NASA will also perform a study to send to Congress about the workforce and industrial base for civil space, which includes supply chains, critical skills, infrastructure and modeling and testing capabilities.
"I am incredibly pleased Congress has passed the NASA Authorization Act of 2022 – the first authorization for our agency in five years," NASA Administrator Bill Nelson said."This act shows continued bipartisan support of NASA's many missions, including our Moon to Mars approach, as well extension of U.S. participation in the International Space Station to 2030."
President Joe Biden has been a major proponent of the CHIPS Act and is expected to officially sign it into law next week. 
This would be the first NASA authorization act to become law since the NASA Transition Authorization Act of 2017. The one before that was in 2010.