Navy Wants Biosynthetic Materials to Hit with Fire and Laser Strikes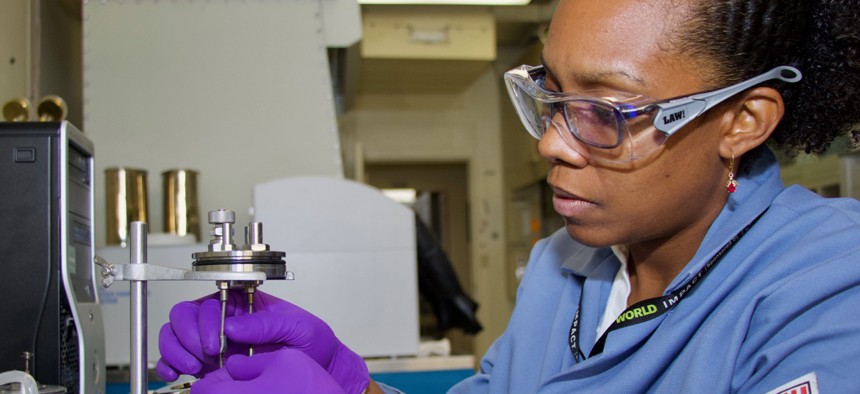 The Naval Air Warfare Center Weapons Division intends to partner with a contractor that can create biosynthetic materials—developed in a lab and based on processes in living organisms—and then test how they hold up against fire, lasers and on drones. 
With aims to build on an unfolding Naval Research Office-led program to demonstrate biosynthetic materials, military officials intend to partner with Cambium Biomaterials to complete the work, according to a notice published on Tuesday. Other companies that can provide technology to meet the Navy's expectations are invited to respond by Jan. 6.
"The contractor shall have the capability to perform the tasks required to fabricate biosynthetic composite materials, evaluate the fire resistance of these materials and conduct flight tests on an unmanned aerial vehicle (UAV) platform," officials wrote.
Synthetic biology—a future-facing field of science—involves engineering organisms that can produce substances from natural features that are useful to humans. The Navy has recently engaged in research efforts associated with biosynthetic materials and fuels. 
For the latest pursuit detailed in this sources sought notice, officials aim to make and evaluate biosynthetic composite materials based on resveratrol, which is a compound produced by certain plants that defends against pathogens like bacteria. In an attached statement of work, they confirm that, among other requirements, the chosen contractor would need to produce a biosynthetic resin and a man-sized drone with composite wings. The contractor would be expected to "conduct ground tests with the drone," which would need to include fire-resistance testing and a laser strike simulation. Comparative laser tests with both a commercial epoxy composite and the resveratrol-based composite material would need to be completed.
Media and videos of the flight tests would also need to be provided.
"The contractor shall deliver a final report documenting composite fabrication, flight tests, laser strike simulations, fire resistance testing and the other requirements listed above," officials wrote in the statement of work. "The final report will be delivered prior to October 1, 2022."
According to the notice, the Navy anticipates releasing a request for proposals in March, and making an award in June. The period of performance for this work will likely be set for 5 years.