NPS Officials Share Fresh Details on Forthcoming Self-Driving Shuttle Pilot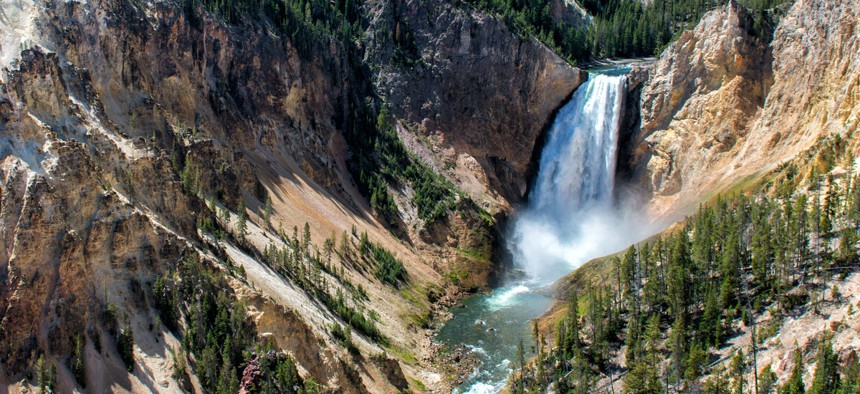 Yellowstone National Park visitors can catch rides on the autonomous shuttles early next summer.
In its recently unveiled, first-ever autonomous vehicle pilot set to unfold at Yellowstone National Park in May, the National Park Service has an eye on the future—and its next generation of visitors, who will likely be tech-savvy and extremely online.
"The demographics and the visitor profiles that we'll see in the future—right, we're going to have people who have grown up with the internet, people who have grown up with smartphones—and I think visitors are going to expect to have an enhanced technological experience in national parks," NPS Alternative Transportation/Multimodal Program Lead Steve Suder told Nextgov.
During the fifth annual BOLD Gov event hosted by Nextgov and Government Executive Tuesday, Suder and NPS Alternative Transportation Program Manager Mike Madej shared new details about the pilot, agency personnel's reactions to the proactive effort, and what its future looks like in the shadow of the COVID-19 pandemic.
"It's super cool to think about an autonomous vehicle operating at Yellowstone this upcoming summer and we're excited that NPS is really taking this bold step and exploring what it takes for future transit and what things can look like," Madej said. "And by this time next year, we should have strong findings for future opportunities."
In October, NPS provided a glimpse into the forthcoming, public-engaging pilot, which will enable park visitors to ride around in self-moving shuttles moving on their own through Yellowstone's Canyon Village area from late May through August 2021. Madej confirmed that though the vehicles will "be mostly operating autonomously," a manual operator will also be onboard at all times. If needed, that human will be able to switch the robot into manual override "to ensure that the vehicle can safely navigate any unique situation that arises," he said. 
After a great deal of consideration and conceptualization, NPS initially launched a request for proposals over the summer to identify potential partners for this work. And when the opportunity was announced internally, Madej said numerous parks expressed interest in potentially being the first to showcase the emerging technology. 
"But in the end, we found that based on the physical infrastructure—such as roads and maintenance, buildings, etc.—and the technical infrastructure, 4G availability, cell connectivity, and support from park leadership, that Yellowstone was the right place for us to host the AV shuttle pilot," he explained.
Preserving America's cultural and natural resources while also embracing a very forward-looking approach to transit presents an interesting juxtaposition for NPS and early on, Madej said those leading the movement "weren't sure where this was going to go—how people were going to respond to this in the parks." But, they were quickly met with what he said was a great response from park workers on the ground.
Suder added that the agency's senior leaders have also been enthused and engaged from the very beginning. 
"From our national leadership, it's been full speed ahead—and I think that support is also beyond just the department," he said. "The federal government's been proactive in the last several years sort of getting organized and making sure that the government's not a hindrance to technology and innovation. And I think that that support is still there, and I think it'll continue in the future."
Florida-based autonomous mobility-as-a-service provider Beep, Inc. was selected as the contractor for the project in September, and NPS officials anticipate the company will announce their selection of a shuttle vendor by mid-December. 
According to Madej, the pilot is ultimately aimed at helping NPS better understand how nascent, autonomous shuttle technologies can present new ways for park visitors to one day get around the agency's heaps of parks and sites.
"The intent is for us to see how the AV technologies operate in a rural park setting, identify and overcome unforeseen regulatory barriers and explore ways to improve mobility options for visitors," Madej said. "Even though riding the AV is open to the general public and it will be moving visitors around in the park, the purpose is not to address traffic congestion, or test transit sustainability with this pilot specifically—although we do intend to use data from the pilot to inform future transit planning."
Suder added that the "future for autonomous vehicles and connected vehicles in the United States is absolutely coming," and that for NPS and public lands in general, "it's not too early for us to start thinking about these things and start to consider and lay the foundations to be in a better spot for the future."
It's unclear if the novel coronavirus pandemic will subside by the pilot's expected launch, but the officials confirmed it's all proceeding with careful consideration and caution. 
"Right now, we're going to continue moving ahead with working with the pilot, as we have with many transit operations in the parks, in that our operators are going to be following all [Centers for Disease Control and Prevention] guidance, in terms of social distancing, ridership percentages, cleaning, and so on, and so forth," Madej said. "Because the situation is so fluid, you know we're not really sure where it will land. But we plan to continue moving forward as is, and be flexible to adjust as needed, again, following all the CDC guidance to ensure safety of the public."
"We're taking it very seriously. That's the bottom line," Suder added. "And I think we'll make the adjustments that are needed and follow any CDC—or even local health agency—views, as it goes forward."