Army Considers Facial Recognition to Monitor Children in Its Care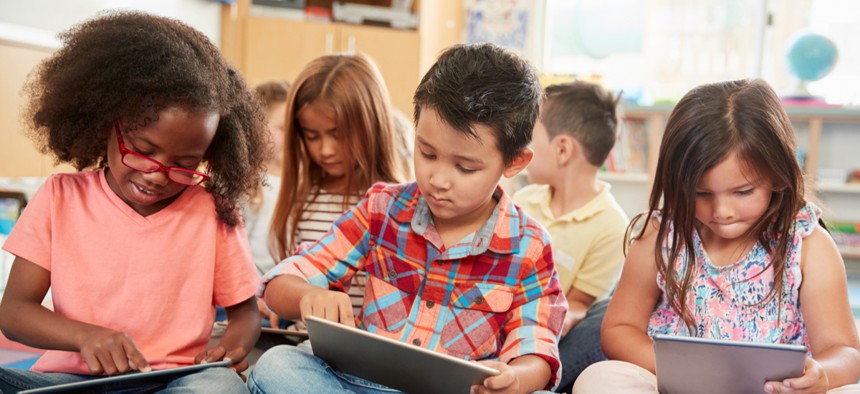 The branch aims to pilot video surveillance and machine learning algorithms to see how they can help keep an eye on kids' well-being in its child development centers.
The Army is preparing to run a pilot program to explore how commercial facial recognition and artificial intelligence solutions can be integrated into its existing camera systems in a South Carolina-based child development center, or CDC—and ultimately used to assess new approaches for monitoring kids in its care. 
A presolicitation synopsis released Friday articulated the Army's Engineer Research and Development Center-Construction Engineering Research Laboratory, or ERDC-CERL's intent to work with a contractor that can design and demonstrate facial recognition and analytics technologies to leverage at the Fort Jackson Scales Avenue Child Development Center. 
The lab is planning to issue the official solicitation on or around December 4, and confirmed that the relevant procurement code has a size standard of $30 million.
"The objective of the contracted effort is to form and implement a solution to monitor the health and well-being of children in the Scales Avenue CDC maximizing the use of state-of-the-art facial recognition and machine learning algorithms," officials wrote in the presolicitation. They added that the work will be conducted in support of the Office of the Assistant Secretary of the Army for Installations, Energy and Environment's broader, ongoing efforts to fuse innovative technologies into the operations of installations to help boost readiness, lower costs, "improve the quality of life of service members and their families," and more.
ERDC-CERL slated February 2021 for an anticipated start date, and noted that the likely period of performance is 12 months from the date of award. The hope is that the system will be integrated into existing Army CDC systems, prove out potential technology capabilities, and provide for an informed business case assessment. The lab views details of the video surveillance system solution architecture and active monitoring data to be captured as "critical deliverables" in its production of that business case analysis report it's eyeing.
"The intent is for the awardee to be able to utilize cameras and other equipment that is already in place at the Fort Jackson CDC, but an authority to operate (ATO) with the installation must be in place for that to happen," the presolicitation noted. In case an ATO falls through, the acquisition will also give participants an option to install and utilize their own camera equipment.
Companies that apply must have a proven history of creating facial recognition algorithms for real-time monitoring, and of securing appropriate approvals for monitoring human subjects. And though privacy considerations are not directly expressed in the document, it notes the proposed face-finding, surveillance solution will be expected to adhere to Pentagon and Army "regulations regarding cybersecurity."
Responses are not yet invited, but the Army said any questions on the coming opportunity can be submitted via email to CERL-CT-Quotes@usace.army.mil.