Open-Source Project Aims to Broaden Access to Early Alerts for Earthquakes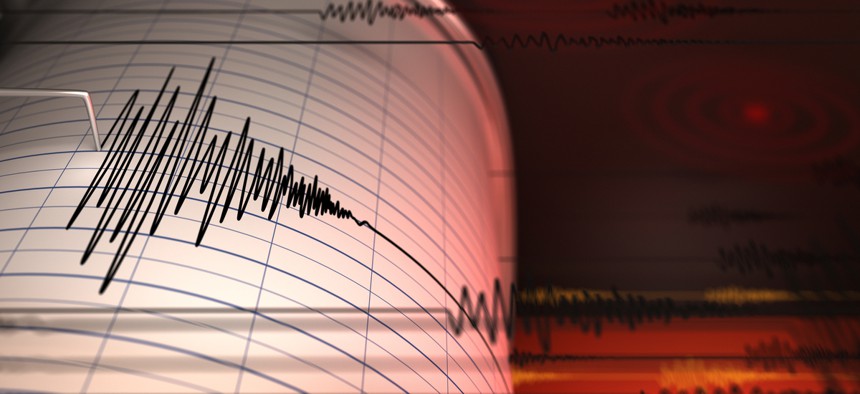 Using internet of things devices and open-source standards, developers and citizen scientists can help monitor earthquake activity, deliver alerts in moments of risk—and more. 
A strategic new initiative will open source and deploy internet of things-based earthquake early-warning systems to bolster the safety and preparedness of people in seismically-active communities across the world—and beyond the scant places that currently leverage such alarm-producing tools.
Through the OpenEEW project from earthquake-sensing startup Grillo and launched with support from IBM, the U.S. Agency for International Development, nonprofit the Linux Foundation and others, developers and citizen scientists can help unleash sensors, monitor earthquake activity and deliver alerts in moments of risk. 
Earthquakes threaten billions of people globally, but inhabitants of only a scattered few areas currently have access to systems that can predict when shakes are imminent.
"The ultimate goal [of OpenEEW] is to place more of the world's population in a position to enjoy the security of living with an early-warning system, which today is only afforded to select populations in the West Coast of the United States, Japan, several cities in Mexico, and Taiwan," Grillo Co-Founder Andres Meira told Nextgov via email Tuesday. "While timely alerts can save lives in the communities where earthquakes pose the greatest threat, these systems [can] cost more than $1 billion dollars." 
Over the last three years, Grillo developed and deployed sensors, and means to rapidly produce earthquake-early warnings, or EEWs, at lower-costs than existing, traditional systems. OpenEEW, according to Meira, will provide a standard for communities to easily adopt that holds promise to scale as a universal solution. Through tapping into evolving technologies including cloud computing and modern accelerometers used to measure force acceleration, "it is now possible to build large redundant sensor networks using the internet," Meira said, noting that, "this opens up the possibility to create EEWs in countries that previously were not ready to make the investment in a bespoke system."
Grillo received initial sponsorship through USAID's Development Innovations Venture, or DIV, program to launch and refine the technology and ultimately create a trial deployment in Mexico. Meira said USAID's support proved "vital in the early testing of different prototypes which led to the set of technologies we now share in OpenEEW."
An official from USAID on Wednesday confirmed to Nextgov via email that the agency was "an early investor" in Grillo, providing $150,000 in seed money from 2015 to 2019. USAID accepts applications from anyone at any time through DIV, which the official called an "open-innovation program that provides grant funding to test new ideas, take strategic risks, build evidence of what works, and scale the highest-impact and most cost-effective solutions." Around 43% of DIV's portfolio is comprised of for-profit companies, they noted.
"Grillo is an important DIV investment––a small, socially conscious business that addresses a problem affecting millions of people with a cost-effective solution," the official said. "Through strategic and early investments in new organizations like Grillo, USAID has supported a breakthrough technology with the potential to help millions of people all over the world, including Oaxacan students who are now safer at school in an earthquake-prone region."
With support from the Linux Foundation, IBM is incorporating OpenEEW into it's Call for Code deployment pipeline, which aims to spur the creation of open-source technological solutions to confront society's grandest challenges, such as natural disasters. IBM's Chief Technology Officer for Call for Code Daniel Krook told Nextgov over email Tuesday that the company and its nonprofit partner will "provide mentorship, advise on best practices for community growth, facilitate code contributions," and also help Grillo discover funding opportunities and connect with an ecosystem of potential partners. Originally connected with Grillo through the Clinton Foundation, IBM also went on to link the startup with Call for Code sponsor Arrow Electronics, a company that Krook said will advise Grillo "on how to best engineer, assemble and distribute their devices." Further, IBM has also built a dashboard to visualize sensor readings and launched six of Grillo's earthquake sensors to conduct tests in Puerto Rico. 
"We want to do more to help keep people safe during earthquakes by incubating projects like OpenEEW and partners like Grillo," Krook said.
The project incorporates several core IoT components, according to the press announcement, including sensor hardware and firmware to quickly spot and transmit ground motion, real-time detection systems that can operate on various platforms, and applications that provide users with alerts on hardware devices, wearables, or mobile apps. 
On top of deploying sensors, Grillo's Meira explained that interested individuals can participate in a range of ways. Some include developing earthquake detection software, monitoring and alerting, creating algorithms using data from existing OpenEEW sensors, and producing the hardware solutions for sensors and alarm devices. 
"The sensors are pre-programmed to send data to a public cloud, already containing feeds from Mexico, Chile, Costa Rica, and Puerto Rico. This data can be used by anyone to create new detection systems," Meira said. "However, the user is also welcome to use the code we provide to build a local EEW for their community without having to use the public cloud."
Officials are also asking for help that doesn't involve writing code, Meira noted, such as documentation and designing the OpenEEW logo.
To date, Grillo-driven sensors have generated more than 1TB from those countries, which researchers from Harvard University and the University of Oregon are using to create and mature methods for machine learning earthquake characterization and detection. And though Japan is the sole country to deploy a nationwide EEW system, Meira added that the new lower-cost, open-source approach could help to quickly boost adoption of the life-saving tech on a global scale. 
"Earthquakes don't respect geopolitical boundaries, so an earthquake in northern Mexico can affect San Diego and vice versa," Meira said. "OpenEEW will allow for the first borderless system that anyone can benefit from."