CDC Needs Better Tools To Track Sickness, Symptoms In Wake Of Nuclear Disasters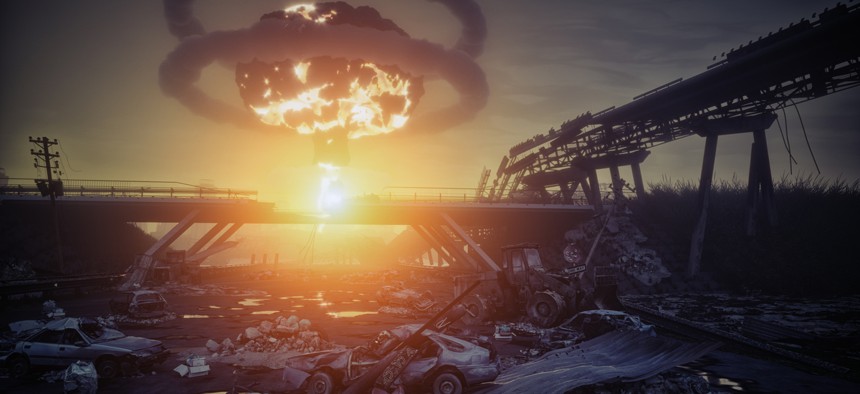 If a nuclear device detonated, the resource CDC wants would support state and local health departments' ability to respond.
The Centers for Disease Control and Prevention wants a new resource for America's health departments to use to trace sickness and symptoms in the wake of a nuclear disaster.
According to a recently released request for proposals, the agency is looking for a hospital morbidity surveillance toolkit to use in emergency response efforts following the detonation of an improvised nuclear device. The final product is expected to include an example tool to collect patient morbidity data, a template to aggregate and report that patient information and a plan for exchanging pertinent data between various medical facilities and the CDC. 
"There is currently a gap in efforts to develop and implement public health surveillance of patients receiving treatment for radiation exposure-associated illness at medical facilities," officials said in the RFP. "The successful completion of this project will help close existing gaps in the public health surveillance for hospitalized patients after an IND."
If nuclear disaster strikes, the CDC is responsible for providing population monitoring and public health surveillance to support the timely response and prevention of injuries and illnesses caused by the event. After radiation emergencies, the agency is also expected to establish a long-term registry to support monitoring of affected people. 
On top of tracking mortality rates following a disaster, it's critical to trace morbidity, or the amount of sickness and symptoms across a particular population. Currently, the agency's National Syndromic Surveillance Program collects data on hospitalized patients that is useful for monitoring participating medical facilities. 
"However, during a nuclear emergency, NSSP data lacks specific information (e.g., radiation exposure dose, exposure location, and medical countermeasures, age group, pregnancy) that is required for situational awareness and for the development of a long-term registry following a large-scale radiological or nuclear disaster, such as an IND detonation," the RFP said. 
The agency wants a vendor to develop and pilot testing tools and proof-of-concept processes that state and local agencies can use to conduct morbidity monitoring following a nuclear event, which will ultimately help them better understand what data to capture from hospitalized patients in such emergencies. CDC also plans to test the toolkit during a Homeland Security Exercise Evaluation Program compliant exercise at a specialized medical facility. 
The agency expects the toolkit to include examples of information collection tools with data elements that are essential for long- and short-term surveillance and examples of data exchange processes that would allow for the transfer of information across various health care facilities and the CDC. 
The chosen vendor will be expected to produce: an approved patient data collection tool; an aggregate reporting template for individual patient data; a data exchange processes document that describes the transfer of data between CDC and other medical facilities; a report detailing lessons learned from its testing; and the final proof of concept for the morbidity monitoring kit. 
The final product will essentially provide health departments and facilities across America with information and tools to detect morbidity in response to radiation exposure and the details they need to use it properly.
CDC also notes that artificially created datasets will be used throughout the project, as opposed to real patient data.
The contract will run for one year and interested parties should submit any questions to CDC by Aug. 21 and proposals by Aug. 26.