Forest Service Public-Private Partnership Explores Using Drones for Precision Pesticide Application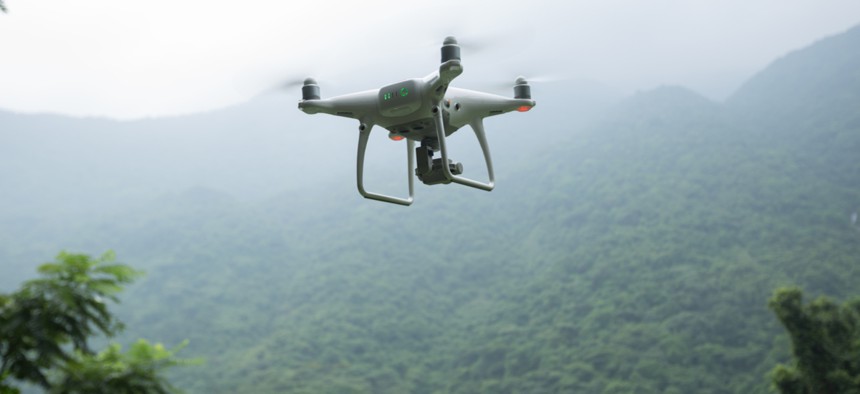 Invasive species and other pests are a chronic problem for America's farmers but dealing with them can be as harmful to the land as letting them run rampant. A partnership between the Agriculture Department and private sector is looking at the latest drone technology as a potential solution.
State and Private Forestry—an organization within the Forest Service—is planning to sign a sole-source contract with Leading Edge Associates of North Carolina to research and develop small unmanned aerial systems that can apply pesticides in hard-to-reach places without contaminating sensitive ecosystems, like adjacent rivers.
Officials said the Forest Service and its components have the "experience in applying pesticides in difficult scenarios, such as riparian strips," the area where the land meets a river or other moving body of water, "and hard to reach terrain." However, the sole-source justification says Leading Edge is the only company with the right experience, technology and licenses to attempt this work using unmanned systems.
"The unique skills of LEA, Inc. results in a unique possibility for creating an arrangement to solve the [Forest Service's] need to develop and understand pesticide application technology," according to the sole-source justification document.
The specific contract work will take place in Montana and Idaho. Leading Edge currently has aerial pesticide application licenses in both states, as well as exemptions from the Federal Aviation Administration allowing them to fly UAS for agricultural purposes.
As for other potential vendors: "We are very aware of the companies working in this field and have discussed this with a number of them," the justification reads. "None of them have the combination of experience, equipment and specific certifications that LEA offers."
The amount of the proposed contract is redacted and being withheld until after the award is made, according to representatives from the Forest Products Lab, which is assisting with the procurement. Leading Edge Associates declined to comment at this time, as the contract is still pending.
Editor's note: The headline and article were updated to show that the Forest Service State and Private endeavor used the Forest Products Laboratory's shared service contract vehicle for the drones.