Thousands Apply to Trump's Drone Pilot Program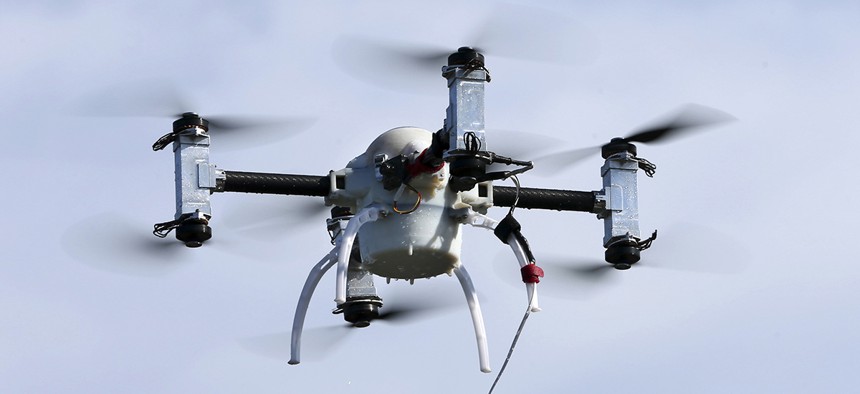 Transportation and FAA are accepting proposals to participate in drone innovation zones, where normal regulations do not apply.
President Donald Trump issued a mandate last month that would roll back some "overly burdensome" Federal Aviation Administration regulations on drone use.
The new initiative proposes to set up "innovation zones" in certain state and local jurisdictions where drone operators could test the technology outside the visual line of sight, near people and at night. Those conditions are restricted by the FAA if the operator doesn't have a specific waiver.
The Transportation Department and the FAA are already accepting proposals to participate in the "Unmanned Aircraft Systems Integration Pilot Program," according to a Federal Register notice.
As of this week, about 1,823 separate entities, including individual drone operators, have listed their names on an FAA spreadsheet as "interested parties," according to a FedBizOpps posting.
The pilot program intends to open the national airspace to select parties whose drone solutions could be useful in "agriculture, commerce, emergency management, human transportation and other sectors," according to Trump's memo, addressed to Transportation Secretary Elaine Chao. Their technology might lead to "novel, low-cost capabilities" for use in both the public and private sectors, that memo said.
Transportation and FAA direct interested parties to visit the FAA site to request access to the submission portal, and asks they submit their Dun and Bradstreet numbers (identification numbers assigned government contractors) along with the request. Selection will be at the discretion of the Transportation secretary, according to the FedBizOpps posting.
The FAA expects to award at least five memorandum of agreement following the proposal process, with each expected to last up to three years. The federal government is not providing additional funding for these proposals.
Federal drone oversight should be "sufficiently flexible to keep pace with the advancement of [unmanned aircraft systems] technology, while balancing the vital federal roles in protecting privacy and civil liberties; mitigating risks to national security and homeland security; and protecting the safety of the American public, critical infrastructure, and the nation's airspace," the memo read.