NASA Says Goodbye to Its Saturn Probe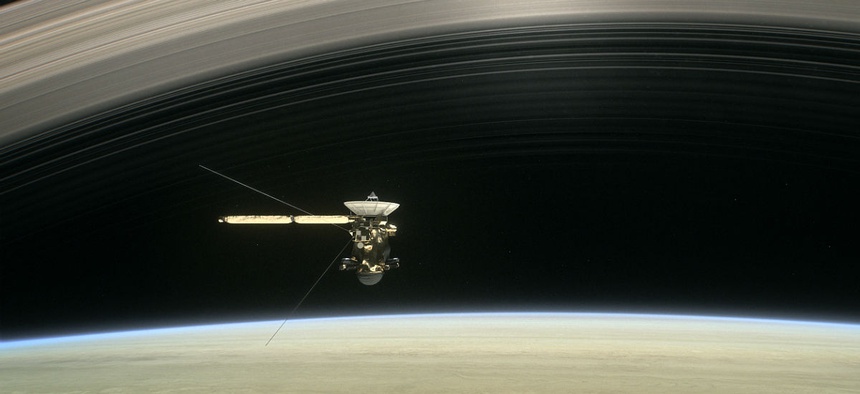 Friday at 7:55 a.m., NASA's Cassini Probe said its final goodbyes and plunged into the planet Saturn, which it has spent 13 years studying.
Our spacecraft has entered Saturn's atmosphere, and we have received its final transmission.

— CassiniSaturn (@CassiniSaturn) September 15, 2017
Cassini's journey to Saturn began with its launch in 1997. It took seven years of travel for Cassini to reach its destination, where it became the first spacecraft to orbit Saturn. Since then, it has transmitted a steady stream of images and data about the planet's rings, atmosphere and many moons.
Part of Cassini's probe even detached and landed on Saturn's largest moon, Titan, and discovered it could potentially host microbial life.
"Cassini has changed the paradigm for where we might look for life," said Linda Spilker, a Cassini project scientist at NASA's Jet Propulsion Laboratory. "It could be a world around a giant planet and have conditions that are right for life." 
To protect those moons from microbials, Cassini was put on a complicated flight path that had it diving back and forth between the planet and its rings, and transmitting as much data as possible before safely crashing it into Saturn itself. 
"We'll continue to learn from Cassini long after the end of the mission," Spilker said.
Every time we see Saturn in the night sky, we'll remember. We'll smile. And we'll want to go back. #GrandFinale #GoodbyeCassini #Cassini pic.twitter.com/6tzJ4N9Jif

— CassiniSaturn (@CassiniSaturn) September 15, 2017
Watch the last images Cassini recorded here: 
Watch the scientists and engineers who worked on the Cassini mission say goodbye: 
And to learn more about the mission, watch here: