Federal Blockchain Projects Face a Familiar Talent Problem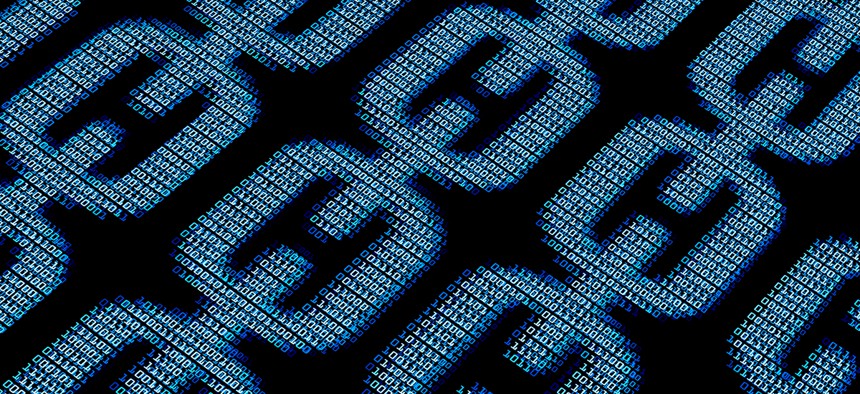 The General Services Administration has a proof-of-concept project underway and a hurdle.
Federal agencies are experimenting with blockchain technology—the tracking system that keeps bitcoin exchanges from being adjusted—but they might not have the talent to implement it.
At the General Services Administration, where a blockchain proof-of-concept is currently under way, "we lack the personnel that have any type of technical training in this particular technology,"  Michelle White, GSA's director of shared services and IT products for contract operations, told an audience at an ACT-IAC event.
GSA has been investigating how, or whether, to use the ledger system to track steps in the procurement process. Procurement officials at GSA are trying to automate the process by which contract proposals are evaluated for its Multiple Award Schedules FASt Lane program, which intends to speed up the amount of time it takes to get on a GSA purchasing schedule.
There are some efforts to increase blockchain technical expertise in government, White said. For instance, GSA's Technology Transformation Services, which includes digital consultancy 18F, has some blockchain working groups.
It's essential for agencies to establish that blockchain is the right fit before they start using it, White added. At GSA, it's one of many technologies and systems that could converge to make the contracting process quicker—another might be agile project management, she said.
Critics argue federal agencies, some of whom are only recently beginning to investigate blockchain, are too quick to sign on to a buzzy technology without thinking carefully about whether they really need it.
"If you're not doing something that involves accumulating and sharing and disseminating data that everyone needs to agree on, you don't need this at all," Peter Van Valkenburgh, research director of the cryptocurrency advocacy group the Coin Center, said at a conference in Washington this summer. Often the decentralized ledger systems, which update with each transaction but aren't controlled by any one party, are "still very new" and "coded from scratch often" because only a small number of people know how to build them.
But the technology appears to have support even at the White House level.
Matt Lira, a senior adviser within President Donald Trump's Office of American Innovation, says blockchain could be a "perfect case study" for tech policy that doesn't stifle its development, he said at Nextgov's Fedstival event. That office, headed by Trump's son-in-law and senior adviser Jared Kushner, aims to modernize government technology.
"The real challenge in the federal space is how we create something stable and secure and delivers quality services and is simultaneously nimble enough to adopt to new technologies like blockchain," he said. "With the new office, I think that's what we have."
Frank Konkel contributed reporting.