Donald Trump's New National Space Council is Already Baffling the Space Industry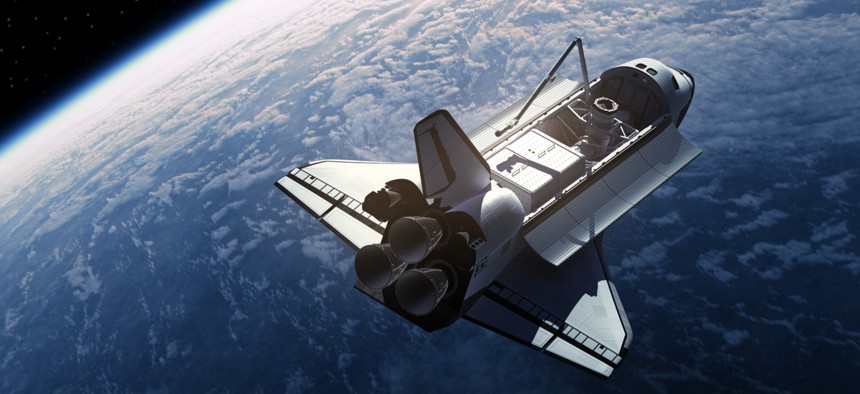 Holding an untelevised event on the Friday before a holiday weekend isn't a way to gin up popular support for a bold space agenda.
With no fanfare, President Donald Trump signed an executive order last week to re-form the National Space Council, creating a new body to coordinate space policy across the government.
Vice President Mike Pence will chair the council, which President Bill Clinton shut down when he came into office in 1993. Its most important work will be coordinating space spending between NASA, the Air Force and intelligence agencies, and leading the U.S. through a period in which a burgeoning private industry is trying to lower the cost of space access and start doing business in orbit and beyond.
Both the traditional and "new" aerospace industry have high hopes for the Trump administration. The president clearly appreciates the grandeur of space and the idea of applying business incentives to it. Despite many rumors that the space council would be recreated, plans to officially establish it or name a new NASA administrator have languished while White House staff deal with scandals and with more urgent issues like health care reform.
Friday's long-awaited event doesn't signal a strong commitment by the White House. It wasn't included in the president's pre-announced schedule, and White House spokespeople declined to confirm or deny it was happening until minutes before the event began. Holding an untelevised event on the Friday before a holiday weekend isn't a way to gin up popular support for a bold space agenda.
"I've heard this rumor for several days and am perplexed as to why [the White House] isn't making a big deal out of it," tweeted Marcia Smith, who has observed U.S. space policy for four decades as a congressional aide and then editor of Space Policy Online. "And having waited so long, why not wait a couple weeks more and do it on July 20?"
The confusion is exacerbating the divide between traditional aerospace companies like Boeing and Lockheed Martin (as well as their rocket-launching joint venture, United Launch Alliance) and startups such as Elon Musk's SpaceX, which broke ULA's monopoly on U.S. launches; Jeff Bezos' Blue Origin; and others with plans ranging from private space habitats to broadband satellite internet.
NASA spending on space has been divided largely between the International Space Station and a deep-space rocket, known as SLS, intended to bring astronauts to the moon and beyond. The newer companies favor funding the space station, which they see as a vital gateway to commerce in low-Earth orbit, while more funding for SLS, built largely in Alabama, is the priority of its main contractors, Lockheed and Boeing. At the same time, SpaceX is siphoning business from ULA, and new heavy rockets envisioned by SpaceX and Blue Origin will be cheaper competitors to the SLS.
While several attendees at the White House event were contractors for the SLS program, none of the "new space companies" sent anyone.
"I hope that the council and this White House understands the vital importance that the commercial space sector plays in the the total space community," Eric Stallmer, the president of the Commercial Space Federation, told Quartz ahead of the announcement.
Overall, however, most firms eager to do space business for the government hope the new council can standardize some things. Right now, rocket purveyors must undergo separate and duplicative qualification procedures to fly rockets for NASA, the Air Force, or the intelligence agencies, and they are eager for simpler regulation. A space council may, too, be a venue to resolve dilemmas like the choice between SLS and ISS, and to settle on a NASA exploration strategy both suitably ambitious and adequately funded.
The biggest question is what will drive the vice president's agenda as chair of the council. In 2005, Pence, as the leader of a group of conservative lawmakers, endorsed cancelling NASA's entire post-Space Shuttle exploration program in order to save $44 billion over 10 years.
But there are other concerns for the space industry. One is the staff of the council will be drawn from the National Security Council, not the Office of Science and Technology Policy, as it was previously—"another loss for the civilian, science, and economic side of space served by NASA," says one former Obama space adviser. This move is extra-worrisome to those who fret about the militarization of space, as cheaper rocketry threatens to bring more conflict to orbit and lawmakers in Congress propose the creation of a new Space Corps.