What Are Microservices and Why Should Government Care?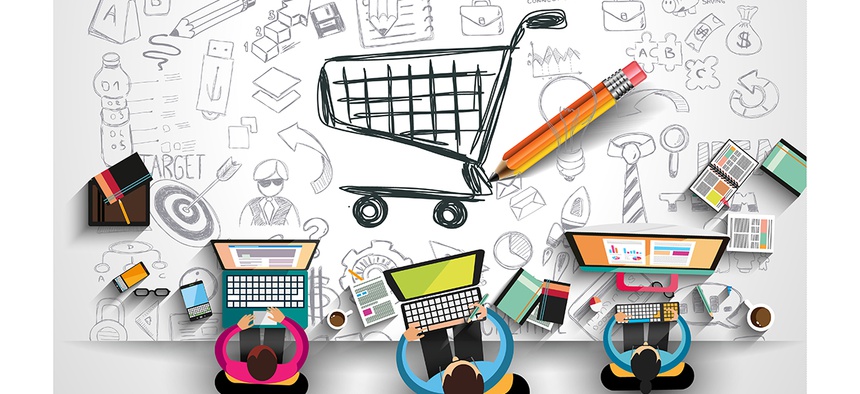 The General Services Administration is experimenting with some of the easy-to-tweak services that power online shopping.
The next steps in the General Services Administration's modernization effort come in small packages but might have a big payoff.
Microservices, according to GSA Chief Technology Officer Navin Vembar, are "small, single-capability kinds of services that are totally self-contained," composed of closer to hundreds of lines of code than the millions that sometimes comprise complex legacy applications and services.
While they aren't yet widespread across government, Vembar said they're all the rage in industries like retail shopping.
» Get the best federal technology news and ideas delivered right to your inbox. Sign up here.
During a customer's online shopping experience, he or she may be presented with related items or links based on purchase history on the way to completing a checkout. Behind the scenes, as many as 100 microservices are doing the work, Vembar said. Those services are smaller, easier to tweak or modify, and if one fails, the customer's shopping experience is still seamless.
That's the sort of IT environment GSA wants to attain in the future, Vembar said. The agency is in the early days of experimenting how microservices could help it develop more agile applications and re-architect old ones, and may ultimately improve the way it delivers services to citizens and agency partners.
So far, GSA has experimented with microservices in Login.gov and its document management system, he said.
Cloud.gov, the cloud platform GSA launched earlier this year, may help the agency advance its use of microservices. Vembar said the agility Cloud.gov affords developers might allow them to quickly "launch new features and change them rapidly in response to what users need."
GSA's increased push toward a DevOps culture, led by its 18F tech office, makes it an ideal test-bed for microservices, Vembar added.
"It's built for it," Vembar said. "When we think about why we would be going in this direction, it is because we want to have that flexibility, more resilience to websites, and if we have microservices in hundreds of lines of code, it becomes a much easier thing to modify, change and support over time. And it creates flexibility for the user experience, too."
One of the other benefits to microservices, Vembar said, is they should be easier to procure, enhancing relationships with partners and customers. Many companies are beginning to position themselves as suppliers of microservices to government, viewing the technology as a logical next step to cloud-based infrastructure.
Austin Adams, vice president of public sector at California-based tech solutions provider Alfresco, said his company is working to provide microservices for several federal agencies, including GSA.
"Federal agencies are looking to enable digital business flow," Adams told Nextgov. "The idea of platform thinking is one of the few ways agencies can get out of the problems legacy IT presents. The cloud is an enabler, but what you do on top of it can make it disruptive."