10 Years After Katrina, NOAA Preps for Launch of Powerful New Weather Satellites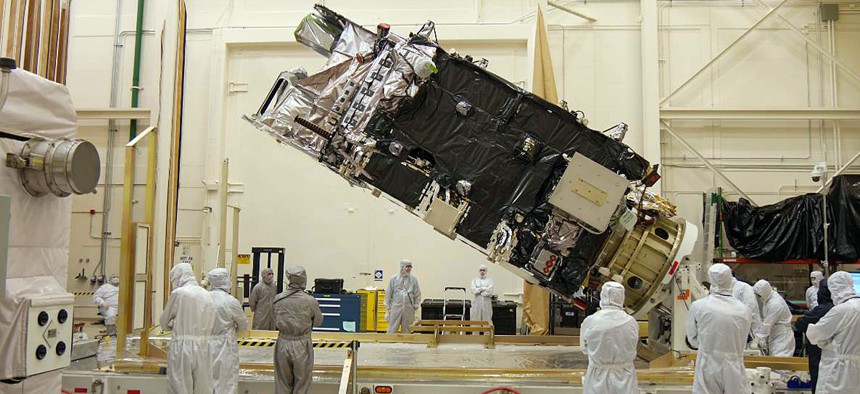 Ten years ago, Hurricane Katrina headlined one of the most active hurricane seasons in recorded history – a season that saw some 4,000 lives lost and $160 billion in damages across the country.
Since 2005, supercomputing advances and tech upgrades have bolstered the National Oceanic and Atmospheric Administration's efforts to better forecast hurricanes. Those efforts will soon be injected with a steroid-like shot of data from two new environmental satellite programs.
Scheduled to launch in early 2016, the first Geostationary Operational Environmental Satellite-R series will produce "30 times the data at five times the rate and twice the resolution" of the current crop of geostationary satellites, according to Steve Volz, assistant administrator for NOAA's Satellite and Information Service.
Volz spoke on a NOAA-hosted panel Tuesday to discuss the decade since Katrina bore down on the southern coastline.
GOES-R will also be able to produce data sets updated every 30 seconds to the National Hurricane Center, allowing for improved "critical situational awareness" as hurricanes take shape and build speed.
"We'll have all kinds of imagery that were not there in the time of Katrina," Volz said.
A second NOAA-run satellite program called the Joint Polar Satellite System will launch its first satellite, JPSS-1, in early 2017. JPSS will produce a huge amount of data – and in fact, a converted demo satellite launched in 2011 already is – that informs numerical models and aids forecasters on the ground.
"Models will be informed by facts and information, not just projections," Volz said. "These new capabilities between GOES and JPSS are a much enhanced capability than we had at the time of Katrina."
Collectively, they will "improve [NOAA's] overall environmental information capabilities."