Astronauts aboard the International Space Station (ISS) get 15 or 16 sunrises per day, but, for a long time, they didn't get to wake up and smell the coffee.
That's because coffee is distributed and consumed like all other beverages in space— freeze-dried and served in a pouch that has much more in common with a Capri Sun than with a steaming ceramic mug.
But that situation is finally improving, and the only thing it took was hosting more Italians from orbit. The SpaceX Dragon rocket scheduled to launch on Tuesday will carry a new kind of espresso machine to the ISS, called, fittingly, the ISSpresso .
Manufactured by Lavazza and the Italian aerospace firm Argotec, the ISSpresso uses standard Lavazza espresso packets to make coffee, tea, and hot chocolate. It also uses water the same temperature as in a standard Lavazza—167 degrees Fahrenheit—and mimics a real Lavazza's water pressure.
But, writing about the machine last year, the Space.com journalist Elizabeth Howell noted that very little else about the mechanism is the same . We also have very little idea as to how some of the ISSpresso's internal mechanisms work. An Argotec spokesman has said the machine is adapted to prevent water leakage and spillage, a real risk in the orbiting laboratory's microgravity.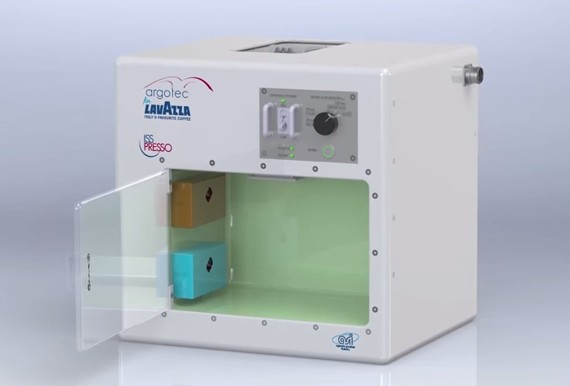 The first person to try the fruits of the new Lavazza will be Samantha Cristoforetti, an Italian flight engineer from the European Space Agency who's been on the station since late last year. She wasn't the first Italian to note the poor quality brew on the ISS, though: A week into his 2013 flight on the station, another Italian astronaut, Luca Parmitano, said the thing he missed most was good coffee .
And Cristoforetti won't even have to suck down the espresso from a pouch, too. Instead, she'll use one of NASA's new space drinking mugs. Called the Capillary Beverage experiment , these can be held like a cup, and drunk out of like a cup too.
Lavazza and Argotec say that findings from their experimental ISSpresso will inform future Earthly coffee machines. And NASA says the success of its new-fangled mugs will lead toward improvements in not only drug delivery on Earth, but also the design of future spacecraft.
And espresso may be a particularly fitting choice. Espresso is the quintessential coffee of the industrial age: One of the first patents for an espresso machine was filed in 1884, in Turin, the modern-day home of Argotec and Lavazza. Espresso sped up a normally tedious process through the sheer power of machinery and steam. It's fitting that it should now join the space age.