Why a Refrigerator-Sized Spacecraft Could be Humanity's Best Hope Against Solar Storms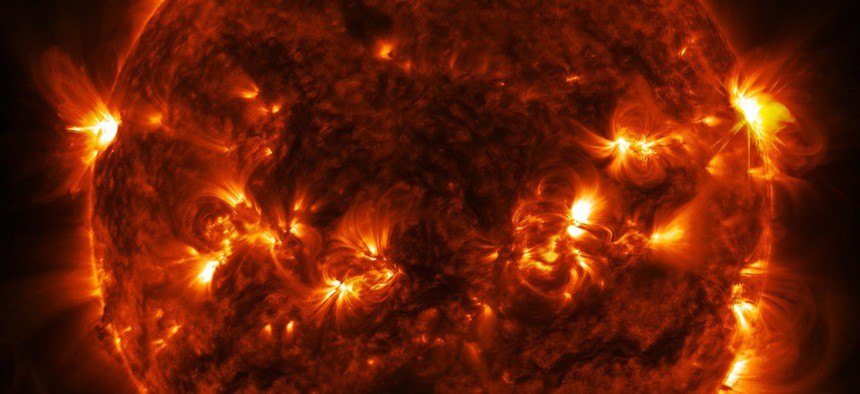 Space is a violent place, and currently the only tool that helps predict solar storms is NASA's Advanced Composition Explorer, operating 10 years beyond its design life.
Realizing the severity of the risk posed by solar storms – like the one that narrowly missed Earth in 2012  – the U.S. Air Force, NASA and the National Oceanic and Atmospheric Administration teamed up for the Deep Space Climate Observatory, or DSCOVR, a refrigerator-sized spacecraft that will give scientists up to an hour's notice of a solar storm affecting Earth.
Now, with full funding under fiscal year 2014 appropriations, the DSCOVR satellite – after passing rigorous satellite and instrument testing in 2013 – is primed to launch in early 2015, according to a NOAA statement Oct. 1.
"That [full funding] allowed us to maintain our current schedule for launch," said Mike Simpson, the DSCOVR program manager at NOAA. "We must always stay on top of developing solar storm activity and provide accurate, timely forecasts. DSCOVR will extend our capability to do that."
Interestingly, the Air Force is funding and overseeing the DSCOVR launch because of the national security concern and dangers to sensitive Defense Department operations a solar storm would present.
A 2008 National Research Council report concluded that damages from "the most extreme" solar storms could range between $1-2 trillion, by crippling electrical grids and severely damaging communications systems. A potent enough solar storm could entirely disrupt communication infrastructure mainstays both the military and public rely on, such as GPS and mobile communications. It would take a decade to fully correct the repercussions of such a storm, the report concludes.
DSCOVR's launch would ensure NOAA scientists have an early warning if the sun goes berserk, although the extent to which damage can be mitigated is unclear.
The launch is also a big moment for SpaceX, the private space technology company founded by billionaire Elon Musk. According to NOAA, DSCOVR will launch "in early 2015" aboard a SpaceX Falcon 9 launch vehicle from Cape Canaveral, Florida.
NOAA will manage the DSCOVR mission and has funded NASA to refurbish the $100 million Triana, the remnants of a politicized 1990s NASA Earth science mission that never got off the ground and spent seven years in storage. In essence, DSCOVR is an old satellite made new again; in a few months, it will have quite a job to do.
"The instruments on DSCOVR will improve upon what we have with ACE, as they will continue to operate even during severe space weather storms," said Doug Biesecker, DSCOVR program scientist at NOAA Space Weather Prediction Center in Boulder, Colorado. "The DSCOVR data will also be used to drive the next generation of space weather models, allowing forecasters to specify where on Earth the storm conditions will be at their worst."