NOAA Moves a Step Closer to More Accurate Weather Forecasts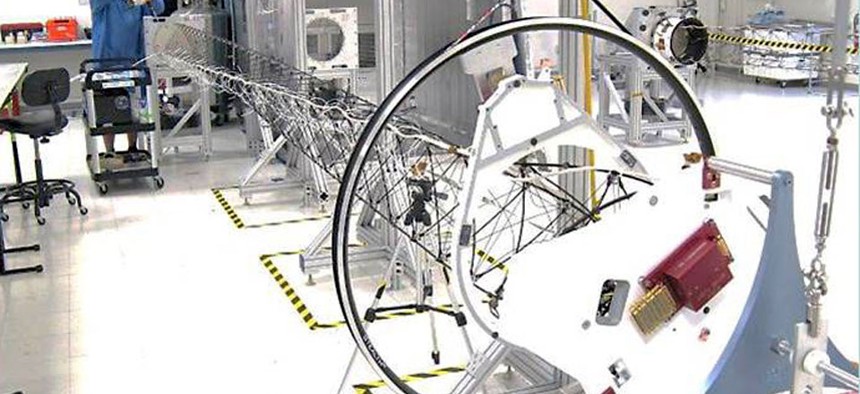 The $11 billion successor to the National Oceanic and Atmospheric Administration's current crop of geostationary weather satellites received another key delivery last week with word that five of six instruments are ready to be integrated into the next-generation spacecraft.
When the Geostationary Operational Environmental Satellite - R series reaches full capacity, it will help provide more accurate weather forecasts, improve hurricane tracking and enhance flight-route planning.
The magnetometer -- which will monitor magnetic field variations around Earth and help forecasters predict the consequences of geomagnetic storms -- is the fifth main instrument developed to fly aboard the first GOES-R, scheduled to launch in early 2016.
Physically, the magnetometer is the largest of the instruments developed for the GOES-R, with a boom that will extend 26 feet from the spacecraft once in space. The sensors and electronic elements were developed by Macintyre Electronic Design Associates in Sterling, Virginia, and the boom was built by ATK in Goleta, California.
"This milestone is another example of our continuing progress to develop, build and launch GOES-R," said Greg Mandt, NOAA system program director for the GOES-R Series Program.
Both the Government Accountability Office and NOAA's inspector general criticized the next-generation weather satellite program after NOAA delayed the launch date in 2013. However, the program appears in good stead now. One final instrument, the geostationary lightning mapper, is still to be completed. That instrument will continuously monitor lightning activity over the western hemisphere.
Other completed instruments ready for GOES-R integration include the advanced baseline imager, solar ultraviolet imager, extreme ultraviolet and X-ray irradiance sensors, and the space environment in-situ suite.