OMB previews tech accessibility guidance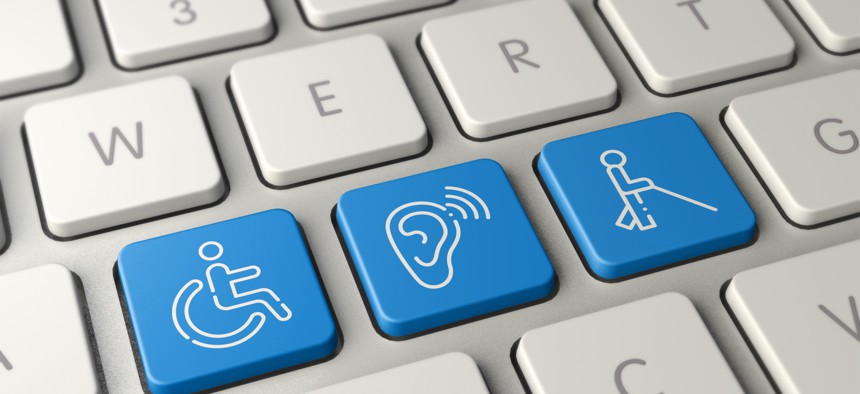 Federal Chief Information Officer Clare Martorana said coming guidance will focus both on external- and internal-facing government tech.
The White House's Office of Management and Budget is building guidance on the accessibility of government technology, federal chief information officer Clare Martorana said Wednesday during an accessibility-focused government event at Federal Deposit Insurance Corporation offices in Arlington, Virgina.
"All members of the public and federal employees should have equal access to government regardless of ability," she said, noting that 61 million adults in the United States have a disability and another 15 million more have a temporary disability. 
"They deserve better, and we are up for the challenge and are working hard to deliver better for the American people. Building and sustaining an accessible federal technology environment is an operational imperative, which is why my office is developing policy," said Martorana.
Accessibility was featured in recent digital experience guidance released by OMB, which directed agencies to follow Section 508 standards, test for accessibility and more. 
But the forthcoming guidance expands on that. It has a broader scope, for example, as it applies to internal-facing information and communications technology, in addition to external-facing tech, Martorana told Nextgov/FCW. The last OMB guidance focused specifically on Section 508 dates back to 2013.
"We must ensure that all electronic information and digital services conform to Section 508 standards issued by the U.S. Access Board. Building these considerations in from the beginning are necessary to foster a culture of inclusion and respect," she said in her event remarks. "It's 2023. This is an expectation for our government to be able to deliver a digital experience that is on par with consumer brands."
Although Martorana didn't give an estimated date for when to expect the guidance, she did say that coming "standards" will be "not just for websites, but for software, for hardware and services, both public-facing and within our own organizations." The office has been drafting the policy for over a year, she said.
As of February, 12% of federal internet and intranet web pages for large agencies covered by the Chief Financial Officers Act didn't conform to the strictures of Section 508 of the Rehabilitation Act, which requires government agencies to give people with disabilities equal access online. Only 69% of intranet pages met those standards.
And among the PDFs in top downloads in those CFO Act agencies, only 23% conformed to 508 standards, according to a compliance report released by the General Services Administration at the urging of lawmakers on the Senate Committee on Aging, which has been active on accessibility-related issues in government.
Still, accessibility testing is currently inconsistent across agencies, according to that report. 
Feds can expect a new focus on measurement in the planned guidance, said Martorana, who also flagged that a forthcoming assessment of agencies' Section 508 efforts governmentwide, required annually by lawmakers as part of the 2023 funding law, will be released by December 29.
"You can't manage what you can't measure. So in order to ensure we're meeting those standards and providing equal opportunities for all users to interact with digital content in a meaningful way, we must test and measure our work," she said. "Testing digital accessibility involves awareness and training to use various techniques and tools to help us determine how well digital content conforms to accessibility standards and guidelines."