Federal CIO says IDEA Act guidance coming this summer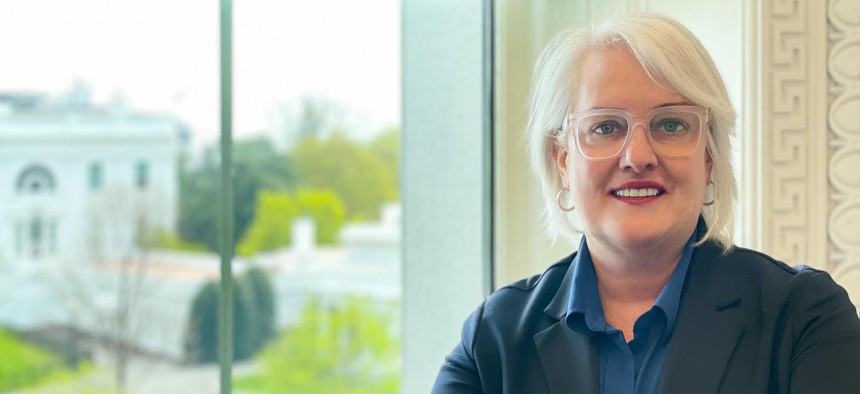 Years after it was signed into law in 2018, the White House is still working on guidance to implement the 21st Century IDEA Act, a law meant to push the government into the digital age.
Although guidance hasn't been issued so far (to the chagrin of some lawmakers), it is coming this summer, said Clare Martorana, the federal chief information officer, on Tuesday at the Code for America summit in Washington, D.C.
The law is meant to improve how Americans experience the government online with requirements for agencies like common accessibility and searchability standards, electronic signatures, digital forms and mobile-friendly, accessible websites. 
"The guidance is really simple," said Martorana. "It's digital-first, mobile-first, totally accessible, electronic signatures, modernizing forms. It is the government we want to have, so that the public can interact with us in a completely digital way that is simple and seamless [and], obviously, secure."
Currently, although 53% of visits to government websites are happening on mobile devices, only 60% of federal websites are mobile friendly, said Martorana. Just 2% of federal forms are digitized, she said, and only half of federal websites are accessible while only 30% of websites are built using the General Services Administration's U.S. Web Design System, which is required by the law.
Martorana, wearing a t-shirt under her blazer reading "one answer," told the audience that giving people looking for government information that single answer is a priority—"they need one answer that's trusted, credible, accurate, timely and verified."
"It's a place to start," she said. "No duplicate content." 
Martorana told FCW that her office has been working on the guidance for over a year. She said her staff "realized in working closely with our agency partners that they needed guidance that was more specific than the generalities that are in an executive order or a piece of legislation."
That drafting process has involved the tech teams like GSA's 18F and the White House's United States Digital Service, said Martorana, noting, "we're not writing policy in a vacuum." 
Another focus is developing branding to tie government websites together visually and help individuals know when they're on a government website, said Martorana. 
Asked how she'd be supporting agencies to implement the forthcoming guidance, she said that they'll "start with the standards."
"What does it actually mean to have unified branding? That should be something we can define [and] clearly articulate, so it's actionable for agencies," she said, also pointing to a content strategy and updates to the U.S. Web Design System "to meet the law."
"When you get into more complexity—of forms, digital signatures, all of those other components, we have playbooks for those. We've implemented them widely across government in narrow places," she continued. "And now it is our job to actually make this more seamless across the entire federal enterprise."
The "wonderful thing" about the law is that "it was passed by a bipartisan group in Congress," said Martorana, continuing to say that Congress will need to fund the law's implementation over time as well as hold the executive branch accountable.
"This is a 10-year plan," she continued. "We are starting now, and we are going to work urgently to get this done in the next couple of years, and then know that the sustainment of this is that long journey."
Artificial intelligence 
The White House also is looking at how to respond to developments in artificial intelligence. It announced last week that federal agencies can expect guidance on AI this summer. 
Martorana said on stage that an inventory of the government's use of AI done in fiscal year 2022 found over 1,100 current use cases of AI in the federal government.
"It's really incumbent upon us to make sure that it is fair, equitable, not biased, and that we are using it with consciousness about the threat environment that we're operating in," she said.
Asked if the government was doing enough to address any risks associated with the use of AI by the government itself, Martorana said to FCW, "I think we are moving fast enough."
"Everybody's running," she said. "The government is running as well. But we are very deliberate and conscious of what our responsibility is and what our opportunity is to guide the marketplace."
Martorana said that AI also has the potential to help agencies with the goals around making government easier to use laid out in the 21st Century IDEA Act and the administration's customer experience goals.
"Generative AI is potentially a really helpful way to get to one answer," she said. 
Generative AI could also potentially help government cut through the jargon "to maybe get a different voice tone or style," said Martorana. "Sometimes we speak legalese in government that isn't always comprehensible to the public, and so I think that I'm actually anticipating seeing a really significant improvement in the way we communicate with the public."