New federal service delivery model focuses on people and problems, not bureaucratic silos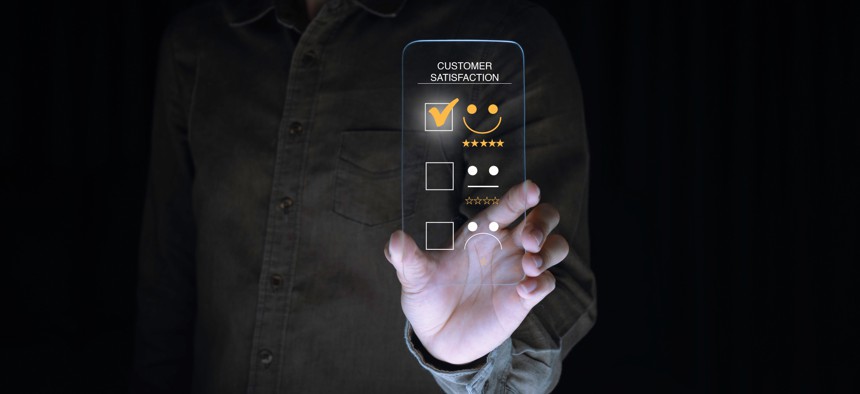 The White House announced nine projects on Friday that agencies are undertaking as part of its effort to reorganize how the government delivers services by focusing on citizens' experiences. 
The projects, which range from piloting newborn supply kits to guidelines for trauma-informed government disaster communications, are part of the Biden administration's ongoing focus on improving customer experience, or how individuals perceive and experience their interactions with government. 
The administration has been focusing on retooling five specific experiences where people often interact with the government, including financial shock and retirement, as part of its CX strategy.
Many of the new projects announced Friday involve efforts to decrease the number of applications individuals have to submit for government benefits and streamlining those applications, in part, by making data more accessible across programs.
The effort is a "new model for how the federal government should better design and deliver services to Americans," the White House said in its announcement of the new projects.
Agencies overseeing efforts to improve the benefits process around low-income families having a child or seeking early childhood resources will be piloting a "benefit bundle," for example, that would connect families to available services like Medicaid through personalized case management. 
Some projects will require agencies to share information across government data silos and navigate legal authorities around that data and challenges to tech procurement.
One effort under the umbrella of facing a financial shock looks to "improve automated benefit determinations… by improving underlying federal data infrastructure." The idea is that government agencies can use back-end data to determine applicants' incomes, and eligibility, on their behalf. 
The initial focus will be on reviewing legal authorities to reuse income data across Medicaid, the Supplemental Nutrition Assistance Program and the Temporary Assistance for Needy Families programs. The project leads will also be looking at prototyping income verification and potential guidance on the reuse of income data across programs. 
Another project centers on a goal for Americans seeking services like food assistance, Medicaid and other means-tested benefits to be able to apply in 20 minutes and enroll in 24 hours.
Accomplishing this, though, will start with a close look at how the government does and could purchase tech for multi-benefit delivery and potentially even new procurement solutions, according to Friday's announcement.
An additional group of agencies will be looking to build out a methodology for how to measure the "psychological, learning and time costs" of applying for, maintaining and getting disaster assistance – a project that will also deliver a toolkit for other agencies to get their own measurements of administrative burden in other programs. 
Having standard measures of administrative burden in government programs – something some in the academic space are also looking into already – could help agencies dismantle that burden.
Another project announced Friday is a pilot of text message reminders about enrollment and renewal deadlines in government benefit programs, something the General Services Administration recently also announced a new service for.
The other two projects are a digital solution to help military service members transition to civilian life and an outreach model for individuals nearing retirement. 
The specific endeavors under this life experience work come after research done by multi-disciplinary teams with service designers, policy experts, program staff and evaluation staff that got feedback from members of the public on how they experience government in these specific life moments, according to the White House. 
As for how the work is being paid for, agencies working on the projects are pooling funding using an authority granted by Congress in the fiscal 2016 appropriations package that allows them to transfer money for work related to cross-agency priority goals, according to an Office of Management and Budget official.
The White House also released a progress update on Friday on the work being done to implement the executive order on customer experience across agencies with specific projects on self-service channels, online forms and rolls, streamlining enrollment in government programs and more.