New federal website offers grants info and research to counter domestic terrorism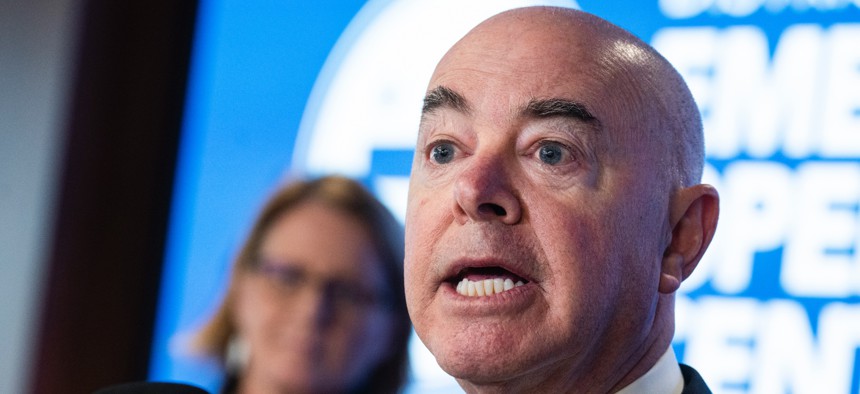 The federal government has launched a new tool to equip the public with easier access to grants and resources across 17 agencies as part of its ongoing efforts to counter domestic terrorism nationwide. 
The Department of Homeland Security said the new website PreventionResourceFinder.gov was developed in collaboration with a wide array of federal partners, including the Cybersecurity and Infrastructure Security Agency and the Department of Health and Human Services, to provide visitors with more than 100 federal resources supporting research and local projects aiming to prevent targeted violence and terrorism. 
The new website – which is categorized into sections like community support resources, information-sharing platforms and grant funding opportunities – comes after the White House released the National Strategy for Countering Domestic Terrorism in 2021. 
The strategy called for improved information sharing around domestic terrorism-related activities and enhanced domestic terrorism analysis to better prevent violence and recruitment among domestic terror groups. 
DHS Secretary Alejandro Mayorkas described targeted violence and terrorism as "grave threats" to homeland security in a statement announcing the launch of the new site.
"The website we are launching today equips our partners throughout the country with helpful resources to better prevent, prepare for and respond to acts of violence," the statement read. "From first responders to non-profit organizations, a whole-of-society approach is needed to keep our communities safe and secure." 
According to DHS, the site will be routinely updated with new research opportunities, grants and additional resources for community partners, which may include faith-based organizations, behavioral health providers, educators and others. 
The site also features training opportunities like Federal Emergency Management Agency national preparedness online courses and DHS community awareness briefings for users interested in local and national community resources. 
A Government Accountability Office report published earlier this month indicated that "domestic terrorism is on the rise" in the U.S., with 231 domestic terrorism incidents documented by DHS between 2010 and 2021. The largest category of those incidents were classified as racially or ethnically-motivated. 
The report found that DHS and the FBI failed to share data on domestic terrorism incidents with each other and did not submit comprehensive data to Congress in required reports assessing domestic terrorism incidents in the U.S.