GSA Aims to Help Agencies Envision the Future of Work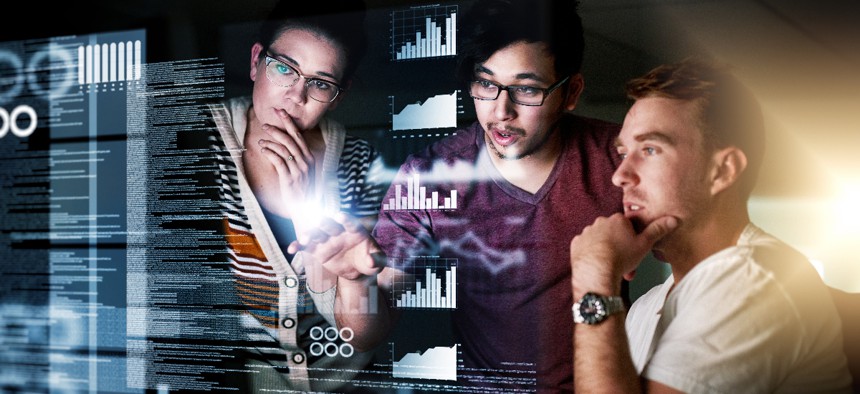 The General Services Administration is working on envisioning what the future of work will look like for the federal government, including through technology innovations, a senior GSA official said during a keynote speech on Wednesday at the Government Executive Workforce Summit.
Katy Kale, GSA's deputy administrator, noted that as a result of the COVID-19 pandemic, "we now have the opportunity to reimagine what it means to work in the federal government, and to deliver better for our customers than we ever have before."
According to Kale, while agencies have already adopted hybrid and remote work, there is still opportunity to envision the future of work. She urged agencies to consider resourcing needs, modernization opportunities and avenues for the workforce to provide "a modern, more digital government."
"More than ever before, both the public and private sector are exploring new tools, new technologies and new workspaces," Kale said. "We're digging deep to understand the new needs and expectations of our employees and we're working harder than ever to develop new kinds of work environments in which employees can continue to grow and engage meaningfully in advancing our respective missions."
Kale pointed to GSA's building, federal fleet and technology modernization portfolio to highlight the agency's efforts. Specifically, GSA recently launched its workplace innovation lab, which Kale described as a "cutting edge work environment" to allow agencies to try out new and innovative workspaces and technologies.
She noted that GSA will use data from the lab to "learn what the federal workforce likes, as well as what is not working."
The future of work goes beyond reimagining workplaces and improving technology, according to Kale, who said that it also involves improving workplace culture to enhance employee experience through efforts like diversity, equity, inclusion and accessibility commitments.
For example, GSA wants to "attract and retain workers in areas like technology who can help us smartly invest and track hundreds of millions of dollars in modernization projects across the government," Kale said.