Treasury lacks data on pandemic-era rental assistance payments, report says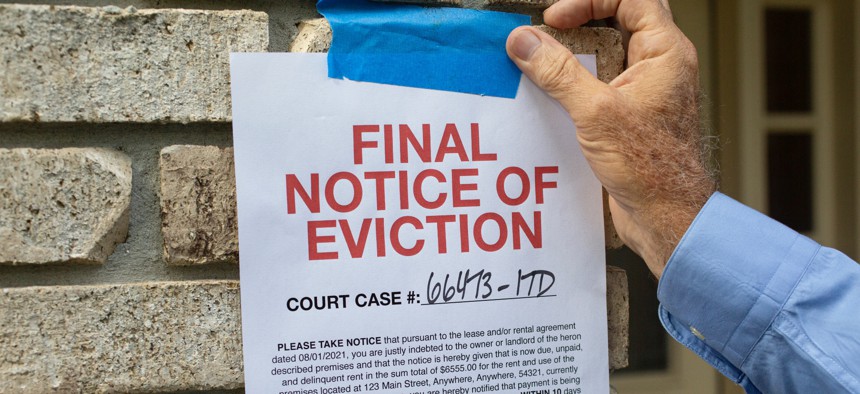 The Treasury Department has collected or reported certain payment data for a pandemic-era program meant to help low income Americans avoid evictions, according to a Government Accountability Office report published on Tuesday. 
The department's $46 billion Emergency Rental Assistance program aims to assist households impacted by the COVID-19 pandemic with rent and utility payments, while prioritizing households with incomes below 50 percent of the local area median. But according to the GAO report, the agency lacks data on 26% of the payments it sent to households across the country last year.
The Consolidated Appropriations Act of 2021 requires the Treasury Department to "collect and report six performance measures disaggregated by demographics (race, ethnicity, and gender) from all grantees" and report them at least quarterly.
But the GAO report found that as of Nov. 1, the department had collected "significantly incomplete grantee data." Specifically, in the first three quarters of 2021, data "disaggregated by demographics were missing for 44–55% of households served," largely due to non-reporting grantees. 
In the fourth quarter of 2021, there was missing data for 19% of households served, in addition to a lack of data on 26% of all payments in 2021. As of Nov. 1, no demographic data has been reported for 2022.  
GAO said that the Treasury Department has taken some steps to improve oversight, including conducting an assessment of improper payment risks associated with ERA, but added that the agency's review did not address the missing payment data or potential duplicative payments sent to households receiving assistance. 
"Without a more detailed assessment of improper payment risks, Treasury's awareness of such risks and oversight of the ERA program will be limited," the report said.
The Treasury Department has also failed to address the risks of sending payments to ineligible participants, the report noted, though available data shows that 85% of recipients for the first round of ERA payments were in fact low-income renters. 
GAO recommended the Treasury Department's chief of the office of recovery programs conduct a comprehensive review of the ERA's potential susceptibility to send out improper payments. The report also instructed the department to collect and publish "complete and accurate data" about payment recipients, including quarterly payment data and information about the rate of missing or erroneous data. 
The Treasury Department agreed with all of GAO's recommendations. The department did not immediately respond to a request for comment. 
GAO has issued previous reports pointing to oversight issues for the department's ERA program, including challenges with balancing efforts to expedite payments while maintaining controls to avoid improper payments. The department said in response to those recent reports that it was planning to set up a process to identify and recover improper payments.