Login.gov is getting new anti-fraud tools, but privacy advocate raises concerns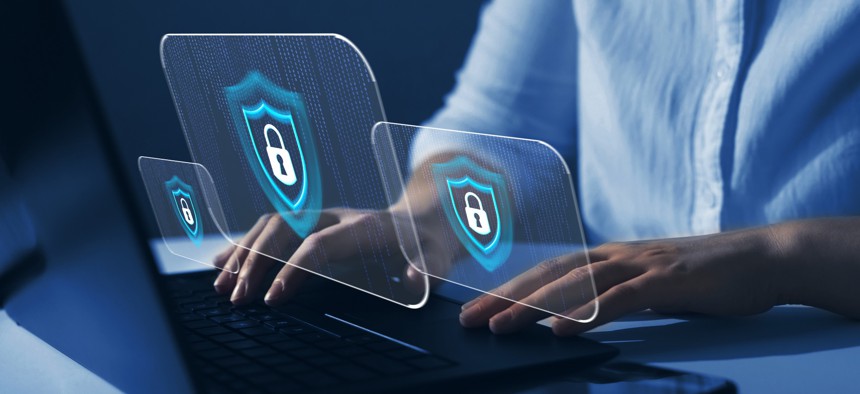 The General Services Administration is adding anti-fraud measures to its sign-on and identity service, Login.gov, in an effort to prevent account takeovers, according to a Nov. 21 notice in the Federal Register. 
But at least one privacy advocate is raising concerns about the agency's use of a contractor service to monitor user data. 
Login.gov is using LexisNexis Risk Solutions, part of London-based global information and analytics provider RELX, for these fraud detection services, according to a September GSA privacy impact assessment. LexisNexis also provides identity verification services for Login.gov. 
The fraud prevention systems will gather input about a given device – like IP address, browser type and usage patterns, such as keyboard and mouse behavior – when someone accesses their Login.gov account.
LexisNexis services will also provide "risk scores" associated with the device, as well as what name, address and other identity information has been associated with that device previously, according to the Nov. 21 notice.
GSA officials did not elaborate when the new services launched or how many contractors are working on them, but did say in a statement that the website will continue to evolve as needed.
"Login.gov is built with a mix of in-house and vendor-supplied capabilities and technology, and leverages multiple industry sources, covering document authentication, identity verification and notification delivery services," a GSA spokesperson told FCW.
The spokesperson added that "as new use cases and needs are identified, Login.gov continues to build product features," pointing to the anti-fraud controls for agency partners and "robust redress mechanisms for legitimate users," as well as increased contract center staff, hours and services and improvements to identity verification services.
GSA is accepting comments on the system of records modification through Dec. 21.
Linda Miller, fraud expert and partner at Guidehouse, told FCW via email that these fraud risk capabilities are par for the course, writing that "device information is crucial to determine things like whether the device has been spoofed" and information like geolocation "can be triangulated with data elements about the individual's identity to help paint a more complete picture of the user and establish the level of risk that it's a compromised identity."
However, there remains apprehension around issues of privacy and accuracy, said Jake Wiener, a counsel in domestic surveillance at the Electronic Privacy Information Center. 
It is a "huge concern that they're using LexisNexis," which "is in the upper echelon of data brokers who suck in massive amounts of information, almost always without meaningful consent from the people whose information they're collecting, and then sell it back to the government and private companies," he said.
These data collection processes are built into the platform's identity proofing process, and users consent to the anti-fraud tech at the start of that process, the privacy impact assessment states. In terms of alternatives, individuals who don't want that information collected about them can "reach out" to whatever agency controls the system they're trying to get into.
A separate privacy impact assessment from LexisNexis states that "collected data is never used for global enrichment of the LexisNexis products" and the Login.gov privacy impact assessment says that Login.gov reviews security and compliance of third-party systems that get data annually.
Wiener told FCW that audits will be paramount, and that "it doesn't resolve broader concerns with using and endorsing a service that trades in people's personal data and sells that data to law enforcement without their meaningful consent. The better solution here remains for the GSA/Login.gov to do fraud control internally."
The Nov. 21 notice and September assessment don't explicitly outline what a notice and appeals process would look like for those deemed risky by the fraud prevention services.
The privacy impact assessment does state that there is a "third-party dashboard" that allows Login.gov to revisit anti-fraud assessments to "confirm fraud or provide redress for users."
The addition of anti-fraud controls comes as Login.gov continues to look to scale across government agencies, many of which are grappling with how to both provide accessible digital government services while also preventing fraudsters through measures like identity proofing.
The director of the Office of Management and Budget, GSA administrator and others have pointed to Login.gov as a potential solution to fraud since the topic came into the limelight earlier this year when the IRS got blowback from lawmakers and privacy advocates over its use of facial recognition via vendor ID.me.