Federal CIO charts path to streamlining government services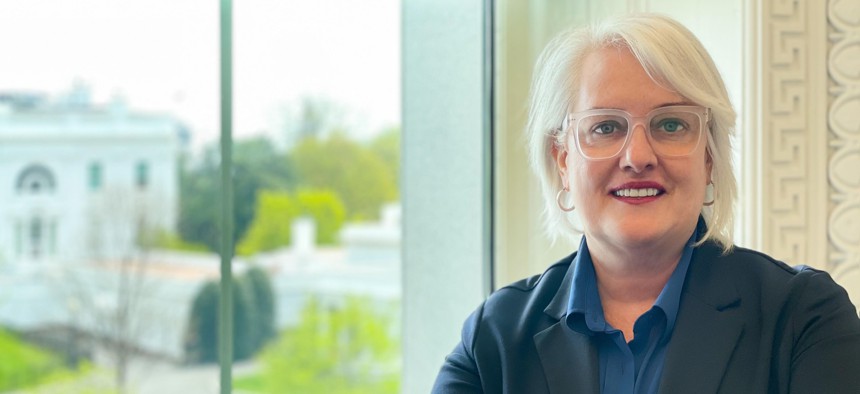 Current restrictions prevent agencies from easily sharing data to support public-facing online tools, but that could change.
HERSHEY, PA – One of the federal government's top technology officials said Monday that the federal government could provide transformational digital tools to deliver public services to citizens, but legacy data policies are standing in the way.
Federal Chief Information Officer Clare Martorana, speaking at the ACT-IAC Imagine Nation conference, said that a coming wave of activity around the implementation of the Biden administration's executive order on customer experience will look at some of the rules and regulations that inhibit the government from fielding the kinds of personalized services that are commonplace in the private sector.
"As a customer of the federal government, you are giving your information to the government in numerous, numerous ways," Martorana said. "And frankly the government knows a lot about you, right? We could do a lot of things in an automated fashion to make it simple and seamless for people to interact with the government, but we are still struggling a little bit with the secure part of that."
Martorana said that her team was busy over the summer conducting user research on the "life experiences" piece of the 2021 executive order focused on customer experience – the effort is designed to streamline multi-agency interactions for individuals and families facing retirement, experiencing a disaster or financial shock, leaving the military or having children. 
"Just like you can on your [insurance provider] app…take a picture of your car accident, we should make it at least that simple for someone who has gone through such a devastating and catastrophic event" – even if the government interaction spans multiple agencies, Martorana said.
"So if you are recovering from a disaster, for example, you are going to be starting with FEMA, having to go to [the Department of Housing and Urban Development], having potentially to go to [the Small Business Administration]," she said. "We are trying to figure out the best way to share information appropriately, privately, but also making sure that it is seamless and simple for someone who has potentially lost everything including their identification to be able to access these government services."
Rob King, the Social Security Administration's chief data officer, told FCW on the sidelines of the conference that data sharing continues to be a major challenge. His agency is involved in the multi-agency effort around the life experiences of retirement and financial shock.
"We need better clarity, and it's something I'm pushing [the Office of Management and Budget] on right now," citing restrictions in the Privacy Act and the Social Security Act. "How do we get the right policies, regulation, interpretation of those to create that experience, when there's so many legal barriers? That's the dialogue we're having."
One high profile government website rollout shows the promise of easy-to use government services. The White House has been touting the rollout of its student loan forgiveness application as easy and simple to use – experts say that the use of administrative data has been a key factor to making the application relatively short.
Martorana said there isn't a roadmap or plan that's set to be published to manage this issue of siloed agency data. 
Eliminating restrictions on data sharing "would take a real evolution [and] I hope we're on the road to start," Martorana said. "It is something I think that we all think about every single day because when you're designing services for customers and you have this hand tied behind your back and this one tied over here, it makes it really, really hard for you to design an elegant system that we are capable of designing."