Executive order will guide $52 billion in CHIPS Act funding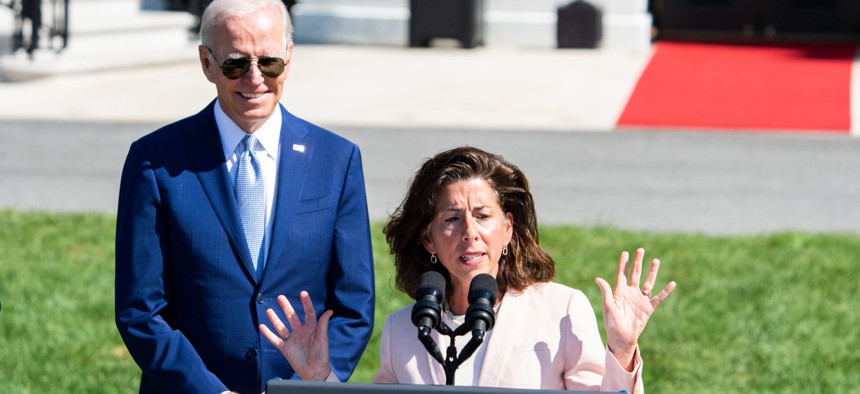 A new executive order begins to lay out a roadmap for federal agencies working to implement semiconductor funding featured in the Creating Helpful Incentives to Produce Semiconductors (CHIPS) and Science Act, which aims to boost U.S. semiconductor research and development. 
The executive order establishes an interagency steering council to guide the disbursement of the nearly $52 billion in manufacturing subsidies and research funding made available through the law Congress passed last month. It also establishes six top priorities around the implementation of the funding, including protecting taxpayer dollars, meeting economic and national security needs, ensuring long-term leadership across the sector, strengthening regional manufacturing and innovation clusters, catalyzing private sector investment and generating benefits for a broad range of stakeholders and communities. 
The White House said the funding program will feature a "rigorous review of applications" and "robust compliance and accountability requirements," while seeking to establish a "dynamic, collaborative network for semiconductor research and innovation to enable long-term U.S. leadership in the industries of the future." 
National Security Advisor Jake Sullivan, Acting Director of the Office of Science and Technology Policy Alondra Nelson and National Economic Director Brian Deese will co-chair the steering council, which includes the secretaries of Commerce, Defense, Energy, Labor, State and Treasury as well as national security leaders including National Cyber Director Chris Inglis and National Intelligence Director Avril Haines.
Commerce Secretary Gina Raimondo said in a statement that her agency had been "preparing for months" for the passage of the CHIPS Act, and launched CHIPS.gov on Thursday to help inform the implementation of the semiconductor funding.
Raimondo said the new site will serve as "an essential channel through which we communicate with the public about CHIPS program initiatives."
"We will move as swiftly as possible to deploy these funds, while also ensuring the time needed to perform due diligence," the Commerce secretary added. "This program is intended to be an investment in America's long-term economic and national security, and we will take the necessary steps to ensure its success."
The $280 billion package was signed into law nearly two weeks ago, with $39 billion in funding for the development of semiconductor manufacturing plants nationwide and $11.2 billion for semiconductor technology research and development.