Biden announces new anti-fraud measures covering COVID relief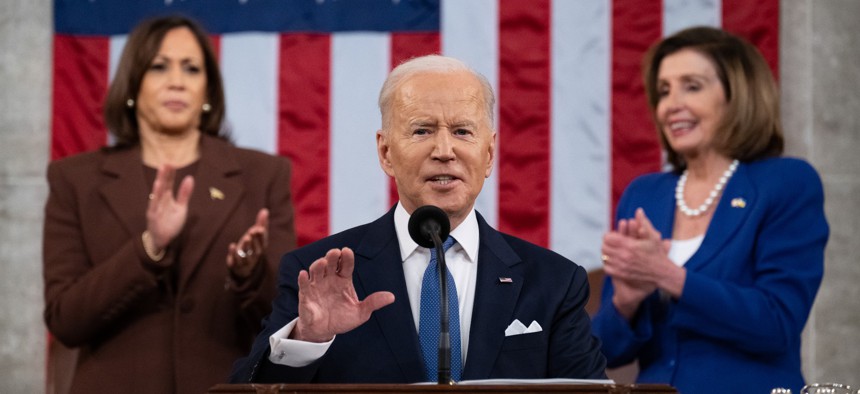 President Joe Biden announced new measures to combat fraud in COVID-19 relief programs meant to help unemployed workers, struggling businesses and more during his State of the Union address Tuesday.
"We're going after the criminals who stole billions of relief money meant for small business and millions of Americans," he said.
An existing Department of Justice COVID-19 fraud enforcement task force, started in May 2021, is getting a new chief prosecutor. The White House says that the person in this role will "lead teams of specialized prosecutors and agents focusing on major targets of pandemic fraud, such as those committing large-scale identity theft, including foreign-based actors" and called out investigations into fraud in the Paycheck Protection Program and unemployment insurance specifically. 
The White House is also calling on new measures from Congress, saying that it's going to be asking Capitol Hill to give more resources to the DOJ task force and heighten penalties for pandemic fraudsters.
There's also an executive order on identity theft in public benefits coming within weeks with "broad governmentwide directives" and new actions to help victims of identity fraud, the White House says.
The move comes as the government continues to grapple with how certain programs receiving money from the over $4 trillion allocated for pandemic response by Congress have been subject to fraud.
The Federal Trade Commission reported a 3000% increase in reports of identity theft involving public benefits from 2019 to 2020 as domestic and foreign crime syndicates grew alongside the allocation of relief funds, the White House says. 
Data from the Office of Management and Budget released in December shows a rise in improper payments, which include both over and underpayments, from 5.6% to 7.2% government-wide from fiscal year 2020 to 2021, largely because of the unemployment program.
The Labor Department's inspector general told Congress last December that at least $87 billion of the $872 billion in UI funds allocated from CARES Act and other legislation as of Sept. 30, 2021 were improper payments, although that number is likely higher. 
Still, despite the "general sense" that unemployment insurance fraud has spiked, the "extent and nature is uncertain," Seto J. Badoyan, Director of Audit Services at the Government Accountability Office, told lawmakers at a Feb. 22 roundtable on unemployment fraud held by Republicans on the Ways and Means Committee. GAO is working on this subject now, he said.
Roy Dotson, acting special agent in the Secret Service, told lawmakers at the same roundtable that he expects investigative efforts to recover assets and charge criminals to go on "for years," a timeline echoed by the Small Business Administration's Inspector General Mike Ware, who in January told lawmakers that pandemic stimulus will "likely continue to be" SBA's top challenge "for years as the agency grapples with fraud in the programs."
Biden has faced pushback from Republicans on the issue, who say that the administration and Democrats in Congress haven't done enough. House Ways and Means ranking member Kevin Brady (R-Texas) said at the February roundtable that "the Biden administration just seems to sweep this under the rug."
In his speech, though, Biden contrasted his strategy with that of the Trump administration, saying that ongoing efforts to beef up inspectors general across government will help with this issue.
"The previous administration … undermined the watchdogs — the job of those to keep pandemic relief funds from being wasted," he said. "Remember we had those debates about whether or not those watchdogs should be able to see, every day, how much money was being spent, where it — was it going to the right place? In my administration, the watchdogs are back."