Labor, USDS pilot new unemployment insurance tech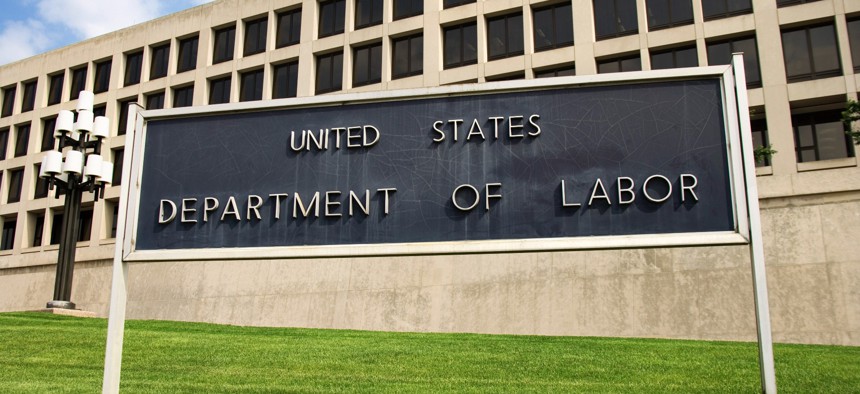 Efforts to develop modular technology for unemployment compensation systems are underway at the Department of Labor and the White House's U.S. Digital Service. 
The "claimant experience pilot'' marks the Labor Department's first foray into product development for unemployment insurance, a benefit delivered at the state level, said Michele Evermore, deputy director for policy in the agency's Office of Unemployment Insurance Modernization.
New Jersey and Arkansas are participating. The tech being developed is for login processes with integrated identity verification. 
The timeline is flexible, officials say, but the goal is to launch a minimum viable product around the end of March. The technology could potentially be adopted by states as they modernize. 
"This is an entirely different approach to tech modernization than the Department of Labor has taken in the past," said Evermore. "It is a seriously ambitious undertaking for us to work with U.S. Digital Services to begin to figure out how federal tools can integrate with vastly different state systems."
Development, testing and research are underway, said Amy Paris, USDS product manager and digital service expert.
When a minimum viable product is finished, it'll first be tested to see if the new mobile-first, user-centered portal works before scaling, said Evermore.
Still undecided is how the pilot will handle identity verification, a process that's recently been the subject of scrutiny and controversy in other government agencies.
Last week, the IRS backed away from vendor ID.me after facing pushback on the use of facial recognition. The company itself also recently announced options for non-biometric verification and deletion of biometric data. 
The Department of Labor is already working with ID.me, as are over 20 states.
States can access the vendor either on their own or through the Labor Department's own blanket purchase agreement (BPA) with ID.me, LexisNexis and Transunion, which states can purchase with grant money from the department allocated to combat fraud, said Evermore.
Already, the role of ID.me in unemployment programs has brought up criticisms of long wait times, the privacy and security of biometric data and concerns about equity.
The vendors in the BPA qualified for "pretty exacting standards" that include cost and performance requirements, including "ensuring equitable access, which of course has been one of the big concerns about ID verification," said Evermore.. 
"We can't really control what they're doing definitely in other venues or even outside of our blanket purchase agreement," said Evermore. "As the product is purchased through our blanket purchase agreement, those vendors will have to meet certain standards. Out in the wild, they don't necessarily have to meet those standards."
ID.me and other BPA vendors are also compliant with standards for identity proofing and authentication set by the National Institute of Standards and Technology, said Evermore. 
The Labor Department also doesn't have control over where states layer identity proofing into the unemployment process, whether they use it at the front door or after someone's been flagged as potentially fraudulent, said Evermore. 
One potential vendor is Login.gov, the government's single sign-on shared service provider that also has identity proofing capabilities. 
When asked if they were considering login.gov, Evermore told FCW, "we're still investigating who to partner with for our ID verification partner."
On the same question, Paris said, "the U.S. Digital Service looks at everyone from a tech neutral standpoint, and a provider neutral standpoint. So we're going to examine all the possibilities."
Although USDS can make technical recommendations, the Labor Dept. will make final policy decisions on this, said Evermore. 
"Some facts must be gathered before a claimant enters the ID verification process so that if a claimant does not pass that verification, there is due process for the claimant to continue to pursue the claim rather than the ID verification providing a de facto determination," Evermore said. 
The hope is that the pilot will make it easier for both people needing the benefit and states delivering it.
"We know it's really hard for some people to apply for unemployment insurance, in some cases too hard," said Paris. "Right now that's varying state to state to some extent. What we're trying to do is figure out, is there a way to make that experience more uniformly just better?... And make it less stressful."
The Department of Labor also recently announced a new grant program meant to help more eligible people apply for and receive benefits.
"If all we had to do to improve unemployment insurance was to improve the tech at the state level, gosh that would be good news," said Evermore. "But the reality is we need analog solutions; we need digital solutions; we need people helping people all along the way."