What Federal Employees Need to Know About Evolving Marijuana Laws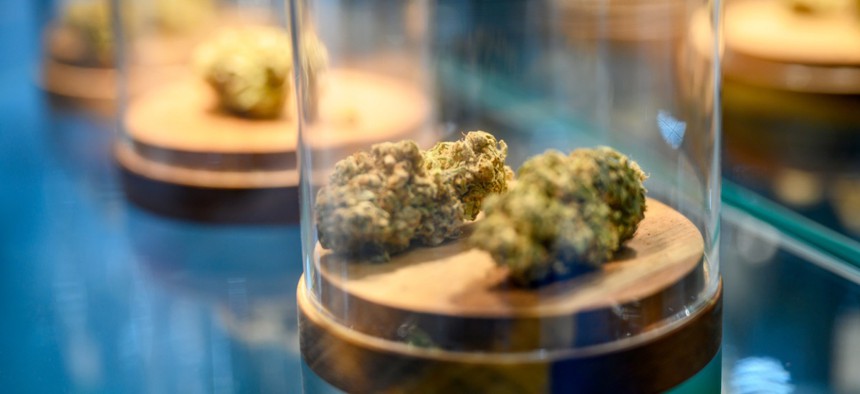 New policies don't mean federal workers should rush to their local dispensary, and national security leaders in particular are urging caution.
Changing public sentiment about marijuana—even about what to call it—has led to a number of policy changes and legislative proposals that could significantly impact employers and workers in the coming year. But if you work for the federal government or in the national security space, it's important to remember that "just say no" is still the law of the land.
The Marijuana Opportunity Reinvestment and Expungement (MORE) Act, which passed the House in December and is expected to be reintroduced this session, would not only remove marijuana from the list of Schedule I drugs, but also change the name from marijuana to "cannabis" wherever the drug is mentioned. Senate Majority Leader Chuck Schumer has signaled he's on board for Congress to make major moves on drug reform this year. All of that policy signaling doesn't mean federal workers should rush to their local dispensary, and national security leaders, in particular, are urging caution.
"We're reiterating the federal drug free workplace," noted Valerie Kerben, senior security advisor for the special security directorate at the National Counterintelligence and Security Center, speaking at a briefing for clearance reform and policy advisors last week. She emphasized that a 2014 memo from the Director of National Intelligence on federal drug policies in light of state law changes still stands, and all national security workers and federal employees should follow the 2014 guidance and abstain from any drug use—even in states where it is legal. That doesn't mean changes won't come in the future, however.
"We're considering putting out clarifying guidance, and also monitoring legislation," Kerben emphasized.
Where Legalization May Not Apply 
Even if drugs were made legal at the federal level, drug involvement remains an adjudicative guideline and the Office of the Director of National Intelligence would need to change the existing policy before security clearance holders should feel free to partake in drugs. Granted, it is highly likely that if the federal law changed, the adjudicative criteria would soon follow, or executive orders or correspondence would clarify the change. But it's worth noting that while Congress has the purview to change federal laws, it is the White House that has the purview to change security clearance policy. If federal drug laws change, national security workers should tread carefully with any new-found legal authority.
Federal workers also should keep in mind their individual agency or company policies may continue to preclude drug use. The coming year may usher in new laws concerning drug use, but until those laws become agency policies, all government employees should continue to say no, whether it's a toke or an edible being offered.
Past Drug Use Isn't a Career Killer
Contrary to popular belief, as evidenced by the angst of many security clearance applicants, past drug use does not prevent obtaining a security clearance. Honesty is the best policy when it comes to drug use, even recent drug use. While policy guidelines used to caveat that one to two years of abstinence was advisable prior to applying for a security clearance, this is one area where changes in state laws are somewhat favorable to today's security clearance applicants. Security clearance adjudicators today appear much more interested in how applicants have separated themselves from drug culture or other users. Even if an individual has used drugs in the past—that's not a clearance killer.
Agency matters when it comes to recent drug use, however. In addition to the adjudicative criteria for obtaining a security clearance, each agency has its own suitability guidelines for applicants and employees. What the State Department will allow in terms of recency of drug use is obviously different than what the Drug Enforcement Administration allows. 
For more information about drug use and national security employment, read "Cannabis and Clearances: What Government Workers Need to Know About CBD, State Marijuana Laws, and Drug Use."