House Panel Passes Grant Reporting Bill; Federal Contracting Could Be Next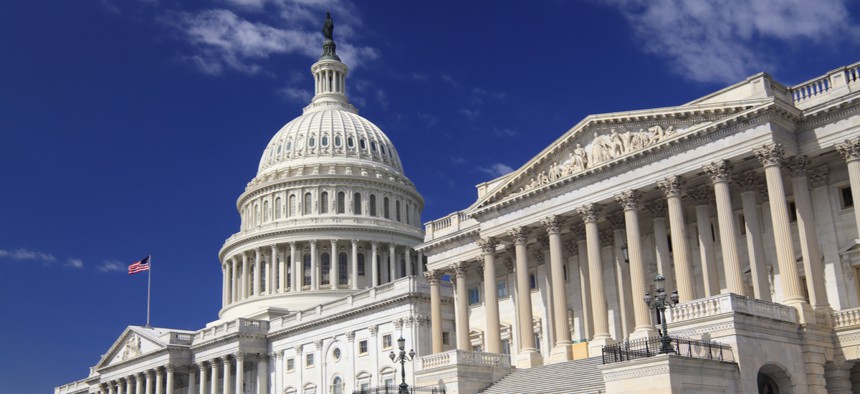 Two members of the House Oversight committee are working on a follow-up to the GREAT Act that would extend the same data reporting requirements to government contractors.
Buoyed by the DATA Act and bipartisan support for creating better data reporting for federal grants, two lawmakers plan to introduce legislation requiring new data reporting requirements for government contractors.
During a committee markup of the Grant Reporting Efficiency and Agreements Transparency Act on Feb. 6, bill cosponsors Reps. Jimmy Gomez, D-Calif., and Virginia Foxx, R-N.C., said they plan to introduce another bill extending the requirements to companies working with federal agencies.
The GREAT Act would require the Office of Management and Budget—along with other relevant stakeholders—to establish a standard taxonomy for data reported by grant recipients to federal agencies. Ideally, this would create a more searchable, transparent and user-friendly database of grant awards and awardees.
"We are not requiring the collection of any new data in the grant reporting process, period," Foxx said. "We're simply interested in transforming the means of the data submission—that of electronic data that comports with modern technology."
The bill was voted out of the House Committee on Oversight and Government Reform with one amendment: striking language that would have called for non-proprietary identification, rather than the proprietary DUNS numbers used today, managed under a General Services Administration contract with Dun & Bradstreet.
"Dun & Bradstreet is pleased the House Committee on Oversight and Government Reform Committee accepted Rep. Gerry Connolly's amendment to the GREAT Act. This was an important step to ensure that robust private sector innovation can be evaluated when the government takes on the important task of increasing transparency and providing efficiencies," the company said in a statement to Nextgov. "Dun & Bradstreet is proud to be a part of the current process, supporting data driven award management decision-making, transparency and accountability in the award management system at no cost to the awardee."
During the markup session, Gomez said he is working on a new bill requiring the same data standardization for federal contractors.
"It is no secret that the federal government needs to modernize the way it conducts business," said Gomez. "By leveraging technology, we can make the federal grant reporting process more transparent and efficient while breaking down barriers for new federal grant applicants that seek funding opportunities.
Gomez said extending these requirements to the federal contractor community would have similar results and "make the GREAT Act even greater."
Foxx also said the requirements should not be a burden on grantees—and, by extension, contractors.
"Reducing compliance costs and demanding better data are not mutually exclusive principles," she said. "We can do both by leveraging 21st-century technology."