DIUx Wins Support—and More Cash—from Trump's Pentagon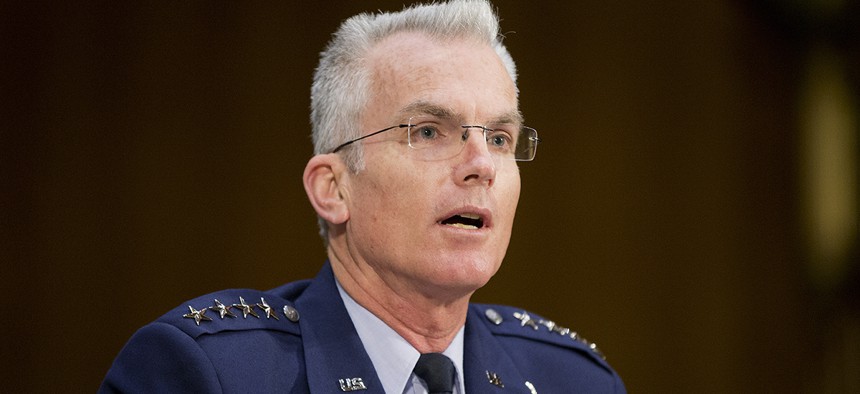 Not all national security problems have technical solutions, and certainly not most things about the conundrum Pyongyang poses for U.S. policymakers. But there's one aspect of the North Korean situation that the military thinks it can solve with new technology, and to do it, they're embracing the Obama-era initiative that connected the Pentagon with Silicon Valley entrepreneurs and startups.
The U.S. needs better tools to track North Korea's missile launchers, Gen. Paul Selva, the vice chairman of the joint chiefs of staff, told lawmakers Tuesday.
"I'm reasonably confident in the ability of our intelligence community to monitor the testing, but not the deployment of these missile systems," he said during a confirmation hearing for his reappointment. "Kim Jong Un and his forces are very good at camouflage, concealment and deception."
To supplement existing surveillance and detection systems, the Pentagon has started working to develop a constellation of small commercial satellites, enhanced with algorithmic processing and machine learning, that could monitor North Korea and other hotspots around the world.
"This initiative will allow the department to leverage less-expensive radar-imaging satellites to fill gaps in space-based reconnaissance," Selva said in written testimony. The U.S. government's more expensive, advanced satellites are needed to focus on specific targets, but the cheaper commercial satellites could provide the "capacity and broader focus for countrywide patterns of life that, in turn, can provide indications and warning."
That technology is being developed through a pair of initiatives at the Defense Innovation Unit Experimental, or DIUx, an office started under then-Defense Secretary Ash Carter to woo the tech community. It got off to a shaky start, but now oversees a portfolio of 20-plus contracts and last year expanded to Austin, Texas, and Boston. And its work on the satellite constellations has earned the office a mid-year boost to its funding.
Last week, DIUx Director Raj Shah told Pentagon leaders that the office had been burning through its cash to direct funds to those key programs, Selva said.
To keep them and the rest of the office running, "we have a reprogramming proposal, that is in staff as we speak, that will address the balance of their requirements for this fiscal year," he said. "We actually put tremendous demands on the defense experimental unit."
Those demands may only grow. During her own confirmation hearing later that day, Ellen Lord—President Donald Trump's nominee to oversee Pentagon acquisition—said that the department should better use DIUx, the Strategic Capabilities Office and rapid fielding offices.
"We don't need the traditional long requirements process for many of the capabilities the warfighter needs," Lord told lawmakers. "If confirmed, what I would do is make better use of all of the different offices and capabilities…We have enough authorities to do so, we just need to implement."
Congress has been less convinced. Last year, lawmakers inserted a provision into the 2017 authorization bill that withholds one-fifth of DIUx's funding, including one-quarter of its operations and maintenance funds and three-quarters of its R&D money, until the Pentagon answers various questions about its mission and operations, according to a report by Federal News Radio.