FCC CIO to Leave for First-of-its-Kind Role in Government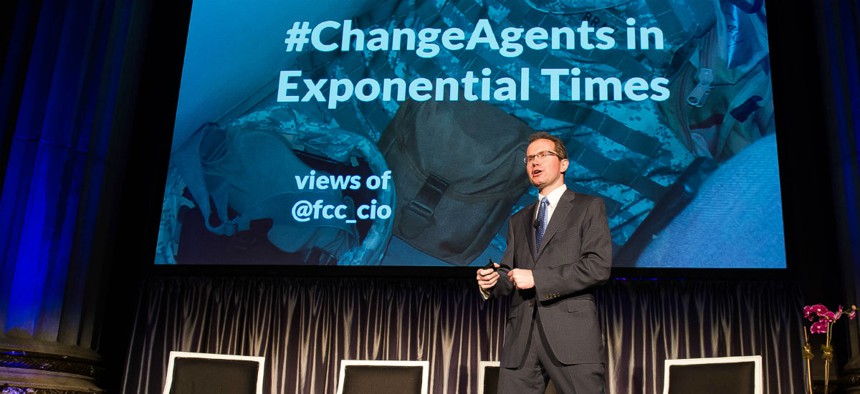 David Bray, who has been the Federal Communication Commission's chief information officer since August 2013, will leave the agency to become the chief ventures officer at the National Geospatial-Intelligence Agency.
The move—expected to be announced this morning at the GEOINT Symposium in San Antonio by NGA Director Robert Cardillo—will take effect in late July, with Bray moving to a newly created and first-of-its-kind government position to advise the agency on the acquisition of emerging technologies, improving business processes and further developing new public-private partnerships.
In his new role, Bray will also be charged with "adoption of machine learning and artificial intelligence, as well as changes in NGA's mission processes, workforce and acquisition models," he wrote in a June 4 email to FCC staff.
» Get the best federal technology news and ideas delivered right to your inbox. Sign up here.
"The role collectively will present an entirely new set of opportunities for me to listen, learn and champion even more positive #ChangeAgents across a 15,000+ person joint military, intelligence and civilian organization," Bray said in the email. "It will be the first role of its kind in the U.S. government focused on completely transforming the business model of a large organization."
Bray told Nextgov while his position may have no precedent in government, CVOs in the private sector "operate as a combination of internal and external venture capitalists." He said he will have budget dollars to use, and anticipates listening to pitches, particularly those at the intersection of mapping, modeling and national security.
Bray will leave FCC's IT outlook in far better shape than the operation he inherited in 2013, when he became its ninth CIO in eight years. At the time, FCC was spending approximately 85 percent of its IT budget on legacy technologies, and its 207 various systems were overseen by some 50 employees and 375 contractors, the average tenure of whom topped 15 years.
Bray brought in a collection of established federal employees and Silicon Valley talent to execute his cloud-heavy vision for the future, and they did not disappoint. Beginning with a series of "small wins" that included millions in savings FCC achieved replacing its aging Consumer Complaint Center, Bray and his team made the case to senior leadership for cloud computing before going all in.
"It's kind of like being Sherlock Holmes," Bray told Nextgov. "You have to take the time to listen to people, find out what's working and what isn't, and what opportunities are here and then synthesize different perspectives. It took about two-and-a-half years to build the team's trust, having those small wins building up to Operation Server Lift."
Following FCC's server lift-and-shift, the agency cut its contracted workforce by approximately 200 positions, with nearly 100 percent of its IT operations now occurring in the cloud. The agency also reduced its legacy IT spending more than 35 percent, and today spends fewer than 50 percent of its $64 billion IT budget operating and maintaining old systems.
FCC's success transforming IT earned it multiple awards, and in his email to staff, Bray credited his team.
"I truly respect and celebrate all that we have accomplished at FCC and all that each of you do daily to move the commission forward," Bray said. "Many of you were here before me, moving FCC's technology ahead—several of you arrived after I did, again to be part of a team dedicated moving the FCC to a new and better place with its technology capabilities. I want to be completely open and direct in saying that working with the team assembled here, at the commission, has been one of the highlights of my professional career."
One of the federal employees Bray brought on, FCC Deputy Chief Information Officer for Tech & Resiliency Christine Calvosa, will become acting CIO during the summer when Bray officially moves to NGA. Bray said he expects a "smooth transition," noting FCC's current IT plan will continue as developed.
In addition, Bray said his weekly unofficial D.C. tech gatherings will continue—which usually take place at the Circle Bistro—will continue, though perhaps less frequently given he'll be traveling more in his new role. One thing that will change, however, is Bray's Twitter handle, from which he often tweets about emerging technology in government using the #changeagent hashtag.
"What I hope we're doing is creating a broader network of change agents in general," Bray said. "Not just at the FCC or NGA. Anyone can be a change agent as long as they're willing to manage friction."