Mattis Wants Pentagon's New Acquisition Roles Defined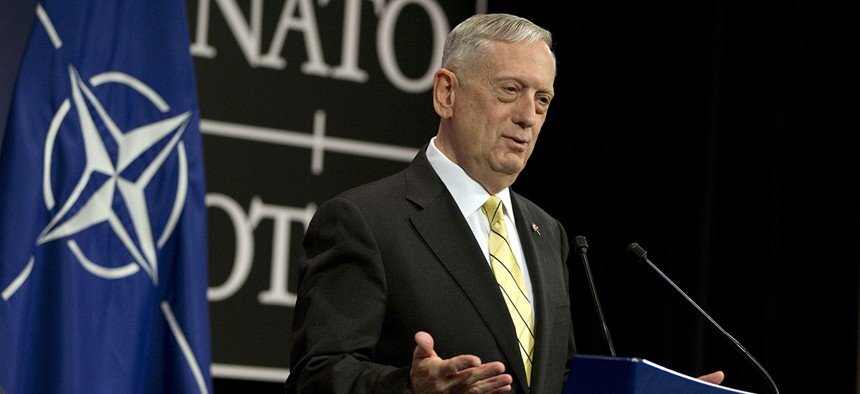 The defense secretary is focused on cost effectiveness and efficiency throughout the department.
Defense Secretary Jim Mattis tasked his deputy secretary with mapping out the department's acquisition organization and where new roles like the chief innovation officer could fit in.
Addressed to Deputy Defense Secretary Robert Work, a pair of memos released Friday address organizational changes required by the National Defense Authorization Act and emphasize the department's need for cost-effective, efficient operations.
"Secretary Mattis is committed to earning the trust of Congress and the American people by providing for the security of our nation while being the best possible steward of every taxpayer dollar spent on defense," said Pentagon spokesman Capt. Jeff Davis in a statement.
» Get the best federal technology news and ideas delivered right to your inbox. Sign up here.
One memo directs Work to develop plans for how the department can improve acquisition in the wake of dissolving the position of undersecretary of Defense for acquisition, technology and logistics. Work will have to determine the responsibilities of the new roles NDAA created, including the undersecretary for research and engineering, the undersecretary for acquisition and support and the department's first chief innovation officer.
Mattis also wants to know how the innovation units, like the Defense Digital Service and the Defense Innovation Unit Experimental, could support rapid acquisition capabilities.
In addition, Mattis wants an initial plan for optimizing information management and cyber operations with the elevation of U.S. Cyber Command.
The other memo directs Work to create cross-functional teams to find business functions that could be served by centralized efforts instead of military service-specific operations, specifically highlighting cyber and information technology management.
"I find the work done by you, the deputy chief management officer and chief information officer staffs in 2014-2015 to be a good place to start," Mattis wrote, adding that a 2015 study called "Transforming Department of Defense's Core Business Processes for Revolutionary Change" should be used for guidance.
Mattis wants interim reports for both memos by Feb. 27.