The social media transition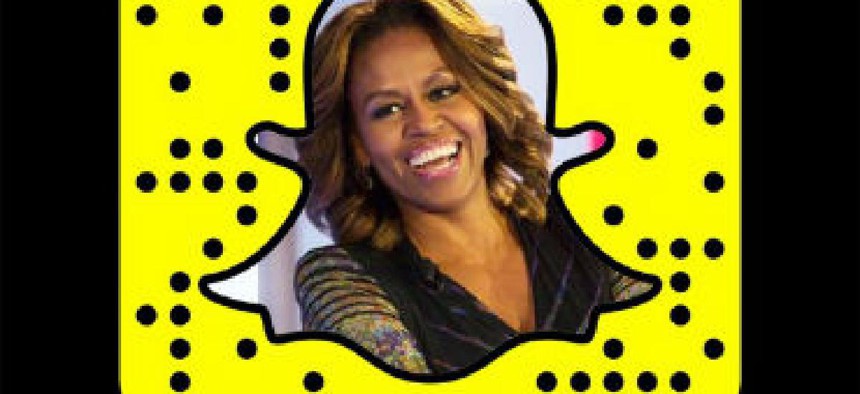 The @POTUS account will zero out on Inauguration Day, and other presidential social media accounts will convey to the new commander-in-chief.
The First Lady's Snapchat account will be archived and preserved along with the rest of the Obama administration's social media.
Plans to archive tweets from the @POTUS Twitter account to clear the decks for the new administration have been in the works since at least August. Now the White House has fleshed out plans to archive web content, videos, images and social media content from a variety of platforms including Facebook, Vimeo, Flickr, iTunes, Snapchat, Tumblr, YouTube, Instagram, the WhiteHouse.gov website and MySpace.
In an Oct. 31 blog post, Kori Schulman, special assistant to the president and deputy chief digital officer, announced that tweets made under President Barack Obama's @POTUS handle will be transferred to the National Archives and Records Administration and viewable under the newly created @POTUS44 account. As FCW first reported in August, the new administration will start fresh, at least when it comes to social media, with a blank slate @POTUS account.
A similar process will occur with the vice presidential, first lady and press secretary Twitter accounts and official accounts on platforms such as Tumblr, YouTube and Instagram.
The Obama administration is also looking to make the "We the People" petition platform a permanent part of the White House's digital operation. The service attracted 12 million registered users, who created more than 470,000 petitions.
"The 'We the People' code has been open-sourced, and we're taking every step possible to make it easy for future administrations to carry on this tradition," Schulman said.
Plans are also afoot to make White House social media downloadable as bulk, open data. In the meantime, the administration is casting a wide net for proposals on ways to archive the content and make it as open and available as possible.