Spy Chief 'Excited' about Agency's Modernization Effort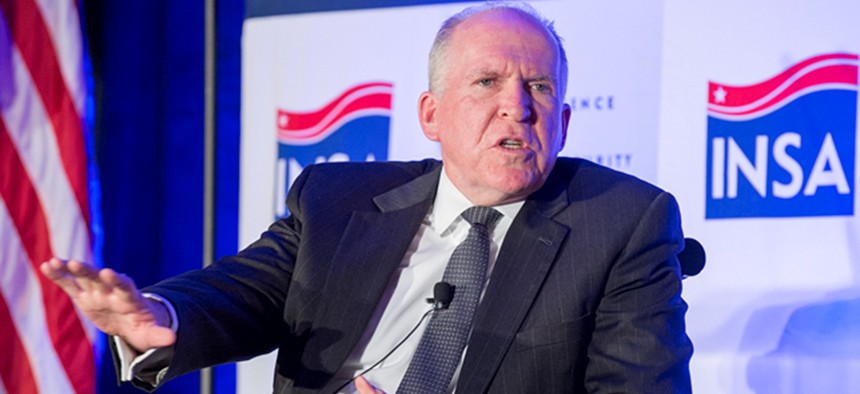 Initial skepticism "has dissipated as we've been able to explain what the purpose is," John Brennan said.
Although CIA Director John Brennan admitted last week the agency's modernization effort has experienced pushback from some of its most tenured employees, he expressed excitement over how his agency has used technology to improve its data collection and analytic efforts.
The CIA made news two years ago for its deal with Amazon Web Services to lead the development of cloud computing capabilities for the intelligence community. Then, last year, the CIA stood up its first new directorate in more than 50 years, designed to improve agents' individual tech skills, improve data governance across the agency and to harness the power of big data.
Evidently, it hasn't been easy.
» Get the best federal technology news and ideas delivered right to your inbox. Sign up here.
"I am very excited about where the agency is going," Brennan said at a July 19 Intelligence and National Security Alliance event. "Yes, a big organization that goes through a modernization is going to experience dislocations. And people who grew up in the organization over the last 20 or 30 years, it's like, 'oh, God what is Brennan doing now?' But I think the initial opposition in some quarters to this really has dissipated as we've been able to explain what the purpose is."
The goal, he continued, is "not to homogenize everybody," but to connect intelligence analysts and others in ways not possible in previous decades. Brennan said the decision to restructure was made out of necessity – the demands for signal intelligence and to feed policymakers' voracious appetites for situational information tied to international events.
A new directorate – headed by Deputy Director Andrew Hallman – is doing exactly that, helping integrate intelligence for consumption by CIA analysts and others across the IC.
"The organizational structure of the CIA was not optimally configured to give us that," Brennan said. "And I think this is going to allow us to have a better opportunity to ensure that the various regions of the world have constant attention of CIA officers who are working together to identify what might be over the horizon."
Chief among them is the ability of analysts to pick up "early indicators" of global events, such as the recent flood of ISIL-inspired terrorist attacks or the attempted coup in Turkey. Brennan said getting those "advanced warnings" is "increasingly a challenge" meriting more resources.