NOAA's Weather Forecasts Will Soon be on Steroids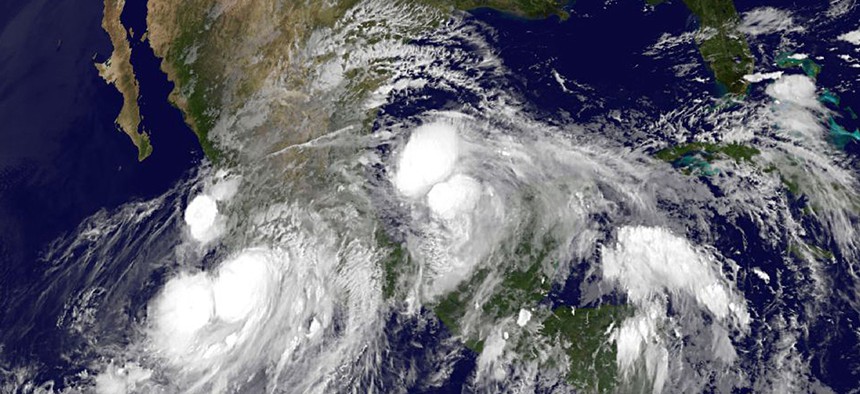 The National Oceanic and Atmospheric Administration – responsible for U.S. weather forecast data – collects some 20 terabytes of weather data per day from sources ranging from satellites in space to sensors on the ocean floor.  
That's the equivalent of 30,000 CD-ROMs, or twice the entire volume of data stored within the Library of Congress – all used in models that scientists and forecasters use to predict severe weather, track storms and make short- and long-term weather forecasts.
While it's a lot of data, it's paltry compared to what NOAA will collect in the near future.
Consider the pending October launch of the first satellite in its $11 billion next-generation constellation called the Geostationary Operational Environmental Satellite, or GOES-R.
When the satellite becomes fully operational, likely by mid-2017, it will produce some 100 megabits of data per second, or almost 9 terabytes per day. The single satellite will produce almost half as much data in one day as NOAA collects today, and in 2018, it'll be accompanied by a second GOES-R satellite, doubling the data production.
Flying some 22,000 mile above the east and west coastlines, the GOES-R series of satellites will replace the aging GOES series, providing an adrenaline shot of capabilities and real-time data to NOAA.
Dr. Steve Volz, assistant administrator for NOAA's Satellite and Information Service, has said each GOES-R satellite will produce at least "30 times the data at five times the rate and twice the resolution" than GOES satellites currently produce. Much of the enhanced capabilities are thanks to the main instrument aboard the GOES-R series satellites.
That instrument is called the Advanced Baseline Imager, built by Fort Wayne, Indiana-based Exelis (since purchased by the Florida-based Harris Corporation). The ABI will produce some 65 percent of each satellite's mission data products and is able to scan the Earth's weather, oceans and environment through 16 spectral bands – 11 more than today. That translates into an additional 20 to 30 weather products the satellite can generate, in addition to improving upon existing products, like atmospheric moisture levels.
Here's how NOAA describes the ABI:
ABI is a multichannel passive imaging radiometer designed to observe the western hemisphere and provide variable area imagery and radiometric information of Earth's surface, atmosphere and cloud cover. ABI will be used for a wide range of applications related to weather, oceans, land, climate and hazards. The instrument has two scan modes. It will have the ability to continuously take an image of the entire planet, or a full disk image, every 5 minutes. It also has an alternative, or flex mode, which will concurrently take a full disk image every 15 minutes, an image of the continental U.S. every 5 minutes, and smaller, more detailed images of areas where storm activity is present, as often as every 30 seconds. All the ABI bands will have on-orbit calibration.
Importantly, as the ABI's developers point out, the satellite could simultaneously run a continental scan every 5 minutes and target a boxed area, like a wildfire, hurricane, blizzard or tornado outbreak, every 30 seconds. Today's GOES satellites take a half-hour to run a continental scan, and currently satellites can't track severe weather without losing the continental picture.
"The ABI should give them a virtual movie of what's happening in near-real time," Paul Griffith, senior systems engineer for Harris Environmental Solutions, told Nextgov. "It's going to give them a much better insight into how severe weather is evolving and allow them to predict much further in advance what areas need to issues watches and warnings for. And they can do that without the continental U.S. and Earth data sets being unaffected."
NOAA's scientists won't have to make a tradeoff in tracking severe weather across either coastline when the GOES-R satellites are operational.
Indeed, Japanese meteorologists last year used the same Harris Corp.-built ABI instrument aboard one of its weather satellites to track Pacific Ocean typhoons. The Japan Meteorological Agency's Himawari-8 weather satellite came online in July 2015 during a season that saw 18 typhoons, 27 large storms and caused $9 billion in damages.
While the ABI used by the Japanese is virtually identical to the one that will fly aboard NOAA's GOES-R satellites, Japan's "most impactful" use for it is tracking the Pacific storms.
"The Himawari-8 has given (the Japanese) greater insight in predicting the tracks and severity of typhoons," Griffith said. 
While the Himawari-8 serves as an excellent use case for Harris Corp. -- which has built four ABIs for NOAA, two for Japan and is currently building one for South Korea -- the company also uses data from the Himawari-8 satellite to test ground stations it has in Florida.
Harris Corp. is responsible for ensuring NOAA's ground systems can handle the influx of satellite weather data it will receive by GOES-R and other next-generation satellite constellations. For example, the first of the Joint Polar Satellite System, JPSS-1, will produce almost half a terabyte of data per day on its own when it launches in 2017.
Eric Webster, vice president and general manager of Harris Environmental Solutions, said the company has been using the cloud to pipe in data from the Himawari-8 satellite to replica NOAA ground stations in Florida, and said the stations are "working very well."
That's good news, because with GOES-R amid pre-launch mechanical testing, it won't be long before NOAA has a deluge of new weather data beaming in from space.