No Protests After $9 Billion Pentagon Contract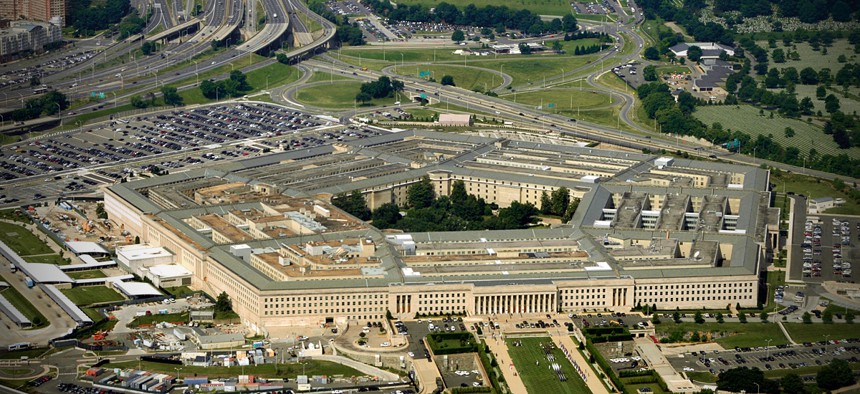 When Leidos and its partners, Cerner and Accenture Federal, secured a monster Pentagon health records contract worth up to $9 billion in late July, eyes turned to losing bidders IBM and Computer Sciences Corp., expecting a bid protest.
That hasn't happened.
Protestors have 10 days after a contract award or debriefing from the awarder to file a bid protest with the Government Accountability Office. That timeline can be extended if parties agree to it during the debriefing, but sources tell Nextgov such an agreement didn't happen.
Protestors can also file protests directly to the U.S. Court of Federal Claims, even after a protest period. While GAO receives some 2,500 bid protests annually, the Court of Federal Claims only gets around 100 – and about half of those only landed in court after previously being handled by GAO.
However, court records do not indicate protests by either IBM or CSC. When reached, CSC provided a statement to Nextgov.
"After receiving a debrief from the government and careful consideration, CSC's Global Health Alliance did not protest the DHMSM award," said CSC spokesperson Heather Williams. "CSC is a long-standing partner to the Department of Defense and strong supporter of military personnel and their families. As such, we wish the program much success and will move forward focused on the future."
The Defense Healthcare Management Systems Modernization contract's based value is $4.3 billion over 10 years, with an 18-year lifecycle valued at up to $9 billion. The contract charges Leidos with building a next-generation health records system that will eventually be responsible for DOD's 9.6 million beneficiaries, deployed at more than 1,200 DOD sites.
In a July 29 briefing with reporters, Frank Kendall, undersecretary of defense for acquisition, technology and logistics, said the winning bid presented a "clear vest-value solution for us," despite three "viable" bids.
Sources with knowledge of the bids tell Nextgov that Leidos' bid was about $1 billion cheaper than the bids of its competitors over the contract's 10-year base. That's a cost savings of almost 25 percent over the contract base alone for the Pentagon.
IBM and CSC – big players in the defense contracting space – would only protest if they felt the financial reward of a win trumped both risk to damaging DOD relations and a prolonged legal battle.
The structure of the DHMSM contract is set up as two-thirds fixed price – including deployments, software and maintenance – and one-third as "cost-plus," which refers to services like training and other business services necessary to ensure DHMSM's desired rollout.
That means if either IBM and its partner, Epic, or CSC and its partners, HP and Allscripts, were to win a protest, they'd be faced with the uncomfortable scenario of trimming their base contract by 25 percent. Presumably, each came to the bidding table with their best-value deliverables for deployments, software and maintenance, as those were the meat and potatoes of the DHMSM contract.
Leidos did not respond to questions from Nextgov over how contractor profit will be divvied up, but it's possible its profit margin on DHMSM is relatively small.
Coming in with the low bid is almost always strategically beneficial, but it may have proved exceptionally effective with Leidos, which recently lost a massive $1.5 billion NASA contract to competitor Wyle Laboratories after a long legal battle. At one point, SAIC, which spun off Leidos, had held the NASA contract to provide biomedical and health services for a mission to Mars, but eventually lost it in a low moment for the company.  
If Leidos needed a win, this contract's scope is likely enough to earn it more future business, provided things go well. Much like Amazon Web Services made international headlines and earned instant credibility that grew its business across the private and public sector with its groundbreaking $600 million CIA contract, Leidos could do with DHMSM and the Pentagon.
Regardless, the deal is likely to affect the rest of the health IT market.
Dr. Tom Handler, research vice president at Gartner's Healthcare Provider analyst group, said Cerner may be "less aggressive" moving toward new deals. In the private sector health IT world, Cerner and privately held EPIC are neck and neck leading the pack, with companies like Allscripts trailing behind. Cerner's DHMSM may open the door for Epic and other competitors to swoop in and claim new business. Cerner also has its acquisition of Siemens Health Services on its plate.
"I look at this and say, 'Cerner just got access to Siemens, that's a big deal, and now they have this absolutely huge deal (with DHMSM) that they can't screw up," Handler said. "To me, I have to wonder whether that will require, enable, or desire them to pull back a bit."
Only time will tell.
(Image via Frontpage/ Shutterstock.com)