This Senator Is 'Shocked' by How Little Data NSA Is Collecting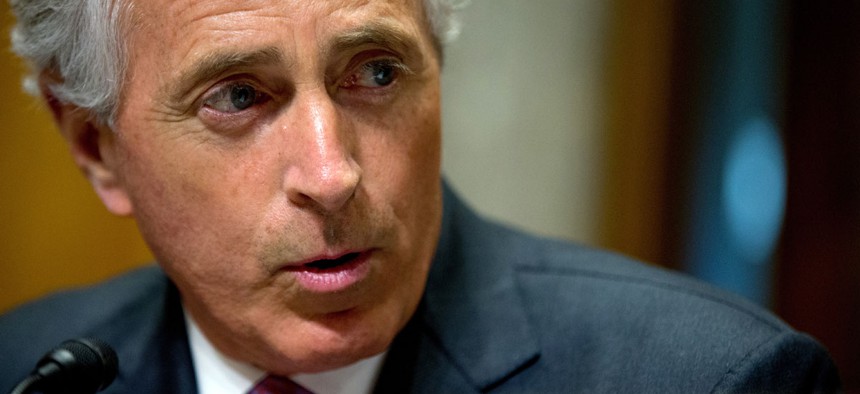 The NSA bulk-data program is so scaled down, it might not even be effective, the Senate Foreign Relations chairman claims.
As the deadline to reauthorize the bulk-data-collection program rapidly approaches, Republican Sen. Bob Corker says that an administration-led classified briefing Tuesday afternoon recalibrated the debate.
Not only does Corker support the National Security Agency's metadata program, he is now seriously concerned that it collects too little data to actually be effective. He described the limited scope of the program he learned about Tuesday as "malpractice." 
"It is beyond belief how little data is part of the program, and the type of data, especially if the goal is to deal with terrorists or recover terrorists," Corker said during a Christian Science Monitor breakfast with reporters Wednesday morning.
Administration officials at the briefing on Tuesday included FBI Director James Comey and NSA Director Michael Rogers.
While Senate Majority Leader Mitch McConnell and Senate Intelligence Committee Chairman Richard Burr are pushing the Senate to reauthorize the program as is, the House of Representatives is expected to pass the USA Freedom Act Wednesday, legislation that scales back the program and only makes metadata available to the NSA on a case-by-case basis.
The Obama administration has said publicly that it supports the House legislation. That puts the House and Senate on a collision course with little time left to resolve differences. Corker says that the "libertarian bent" that occurred after the "Snowden affair" still may be combated.
According to Corker, he was not the only one surprised by the briefing, which was arranged by Senate leaders. His colleagues in both the Republican and Democratic parties were "shocked" by the information they learned.
"The program is actually not the program I thought it was. Not even close," Corker said. "I think you are going to see people on both sides of the aisle pushing, wondering why not more data is part of the database that is used to protect our citizens."
If Americans are concerned about privacy infringement, Corker balks, that should be the least of their worries.
"There are all these myths about what the metadata program is," Corkers said. "I am incredibly disappointed that we have allowed a program that is supposed to be so important to our national security to be so ineptly carried out."
Corker—who brokered a deal in Congress to approve of an Iran nuclear agreement with an up-or-down vote—had more lobs of criticism for the administration, however, beyond simply how it carries out the metadata program. As the chairman of the Foreign Relations Committee, Corker said he continues to be taken aback by Secretary of State John Kerry's posture toward nuclear negotiations with Iran.
"I had breakfast a week and a half ago with Secretary Kerry and expressed a lot of concerns," Corker says. "Kerry comes across, I'm sorry, there is a colloquial way of describing this that I won't use in this type of setting. ... He appears to be a guy who just wants a deal whatever it takes to do a deal."
Corker added, "It feels rather perverse."