And the Winners Are ... 2014 Nextgov Bold Awards Recognize Tech Problem Solvers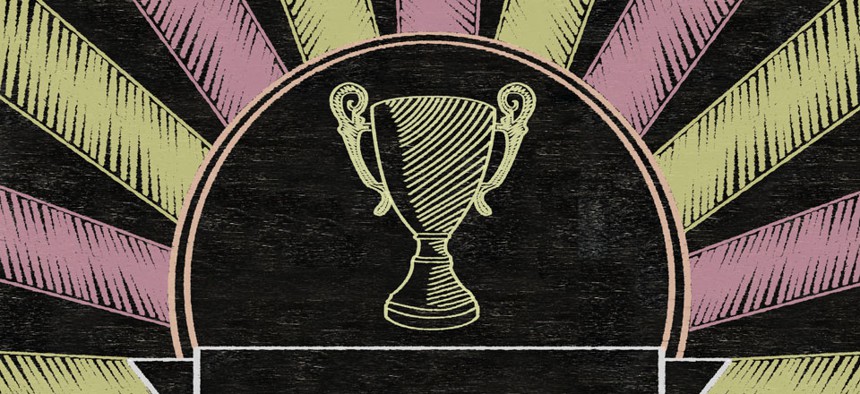 A new system for tracking weapons of mass destruction in the field, a project to put tablet devices in the hands of Peace Corps volunteers decamping overseas and a $6 billion effort to better secure the dot-gov domain.
Those are just some of the projects recognized Monday at the second annual Bold Awards.
From nearly 100 nominations for the contest, 10 winners -- based on ambition, innovative prowess and outcomes -- were selected by the Nextgov editorial team, representing the boldest and most far-reaching projects.
"Those initiatives that made the cut show that innovation in government isn't an oxymoron, but a concept that's alive and well within the halls of government," said Nextgov Executive Editor Camille Tuutti at the awards ceremony at Nextgov Prime 2014 recognizing all the finalists.
The boldest projects taking home awards were:
An Office of Personnel Management team, led by Rebecca Ayers, won for its efforts developing the first software-as-a-service governmentwide performance management system—USA Performance.
Gwen Camp and her team at FEMA's Individual and Community Preparedness, used social media to implement and promote America's PrepareAthon!, FEMA's largest disaster-preparedness campaign. 
Patrick Choquette, director of innovation at the Peace Corps, used hackathons and crowdsourcing to solve Peace Corps-specific problems, such as mobile translation services. He was also instrumental in getting tablet devices in the hands of Peace Corps volunteers.
Daniel Clemons, project manager at the Intelligence Advanced Research Projects Activity, led a project to replace an antiquated process for reviewing research proposals with a secure, user-friendly software platform.
Christina Lachance, public health adviser at the Office of Population Affairs, transformed OPA's siloed family planning reporting system to a modern solution.
Martha Lambie, assistant deputy commissioner for operations at the Social Security Administration, was honored with an award for the championing of a Web-based virtual help desk to help share expert knowledge with frontline staff.
John Picanso, CIO of the Agriculture Department's Animal and Plant Health Inspection Service's Veterinary Services, led an effort to revamp the agency's nationwide animal disease surveillance database.
A team at the U.S. Army, led by Chief Technology Officer Thomas Sasala, was recognized for the successful pilot project to deploy a multitenant virtual desktop solution for members of the Information Technology Agency and the Joint Staff in nearly one-third of the time for a typical project of this size. 
A team from the Department of Homeland Security, led by John Streufert, the agency's director of federal network resilience, was recognized for its work navigating the complex and crucial beginning stages of the $6 billion continuous diagnostics and mitigation program.
A team from the Defense Threat Reduction Agency, led by Andrew Wiedlea, won for the development of the Constellation prototype, an unclassified cloud-based system aiming to enhance situational awareness of threats from weapons of mass destruction.  
Nextgov readers also selected Rebecca Ayers' OPM team for the "People's Choice" Bold Award. 
(Image via Chatchawan/Shutterstock.com)