Next-Gen NOAA Satellite One Step Closer to Launch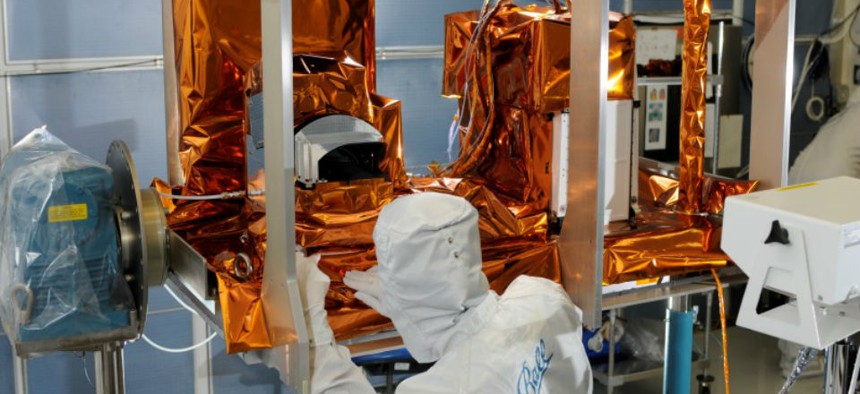 Instrument development for the National Oceanic and Atmospheric Administration's next-generation polar-orbiting environmental satellite continues to meet milestones on time.
This week, the second of five state-of-the-art instruments that will fly aboard the $11 billion Joint Polar Satellite System completed its pre-shipment review, which means the Ozone Mapping Profiler Suite is ready for integration with the actual satellite.
The instrument, developed by Ball Aerospace and Technologies Corporation, is scheduled for JPSS-1 integration in early 2015. The satellite itself is scheduled to launch in early 2017, and will fill a critical need for NOAA as its aging crop of polar-orbiting environmental satellites are at the end of their life expectancies.
OMPS' timely maturation, as well as a recent successful review of another JPSS-1 instrument called the Clouds and the Earth's Radian Energy System, has helped keep JPSS-1 on schedule to meet the 2017 launch date.
"OMPS is the next JPSS-1 instrument to pass this major milestone for the JPSS program," said Harry Cikanek, JPSS director. "We are pleased that OMPS is right on schedule. With two done and three to go, JPSS-1 is on track for success."
As 2017 nears, the JPSS-1 launch date becomes more critical, as Government Accountability Office reports have publicly stated an interval in polar-orbiting weather satellite coverage of 17 to 54 months is possible. Such a gap would dramatically affect short- and mid-term weather forecasting.
The other instruments aboard the JPSS-1 are:
The Advanced Technology Microwave Sounder and Cross-track Infrared Sounder will work closely together to provide atmospheric and temperature profiles for weather forecasting
The Visible Infrared Imaging Radiometer Suite will create high-resolution imagery of the atmosphere using visible and infrared channels 
The Ozone Mapping and Profiler Suite aims to measure ozone concentration in the atmosphere and provide significant input to the numerical forecast models