Army looks to bring $22B headset program into production in 2025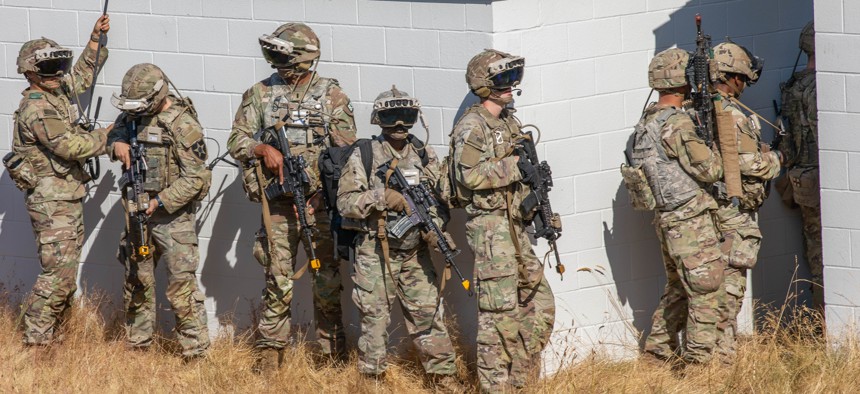 After years of delays and program adjustments, the Army has a new time frame for rolling out its augmented reality headset to troops.
The Army is now looking to take its long-delayed $22 billion augmented reality goggle program into production as early as the summer of 2025, according to a top acquisition official.
The Integrated Visual Augmentation System program, based around a Microsoft-designed headset, was intended to integrate multiple streams of information — including night vision, radio communications, targeting capabilities and more — to soldiers in the field. However, as chronicled in a critical oversight report from last year, soldiers involved in testing have expressed serious objections to the system, and Army officials have struggled to make improvements over the five-year span of the program. But officials think they are closing in on a production version of the big-ticket item.
"The Army and Microsoft have identified solutions to address these areas through refinements driven by soldier-centered design," Douglas R. Bush, the Army's acquisition chief, said in prepared budget hearing testimony that was co-signed by the head of Army Futures Command and the Army's deputy chief of staff.
According to the written testimony, the Army is "on pace" to field IVAS 1.0 to training units and IVAS version 1.1 to operational units in fiscal year 2024, with full production to combat forces coming as soon as the fourth quarter of fiscal year 2025.
Rep. Bob Wittman (R-Va.), the chairman of the House Armed Services Committee's Tactical Air and Land Forces subcommittee, drew attention to the program's spotty record in his opening remarks.
"Previous iterations of IVAS have left the majority of soldiers reporting at least one symptom of physical impairment to include disorientation, dizziness, eyestrain, head and motion sickness, nausea, neck strain, and tunnel vision," Wittman said. "I am particularly concerned about a product that would cost over $60,000 per soldier and think that the IVAS system needs to be carefully scrutinized to ensure that soldier lethality is enhanced and that Army's limited budget is maximized."
Bush said that the Army's capability to pivot and redirect such a large program is testament to the success of rapid prototyping and fielding authorities provided by Congress as part of a military acquisition modernization push.
"We got to a hard test," Bush said. "It did not work as well as we thought. But because of those authorities we were able to in a matter of months restructure the program and head off in a new direction that will actually, we hope, achieve what the Army was trying to do."
At a Senate hearing last month, Bush told lawmakers that the Army was moving deliberately and didn't plan to overcommit the full program budget ahead of the delivery of needed capabilities.
"I think we are taking a deliberate approach, whereas the first time around was honestly very, very aggressive on timeline and production ramp-up," Bush said in March. "This time we are being more cautious… Microsoft – they have to deliver. This 1.2 system needs to be exactly what the Army needs or we're not going to produce it."