Pentagon looking to make sure SpaceX doesn't abandon them in war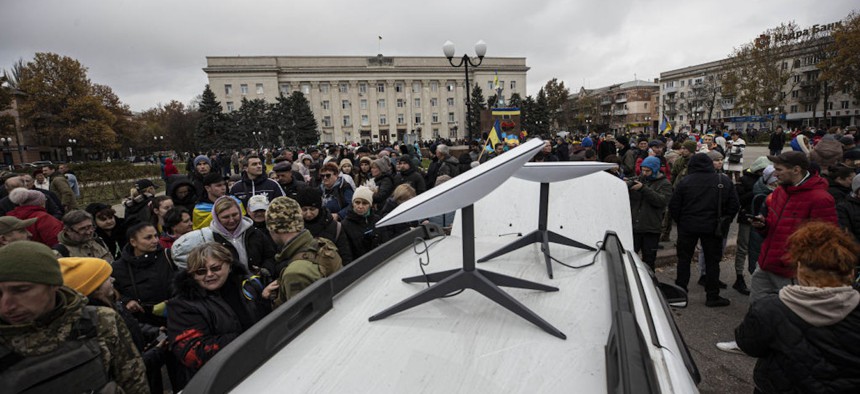 A type of contract pioneered in the 1950s may help the Pentagon solve a 21st-century problem: making sure private-sector satellite operators don't cut off wartime communications.
On Thursday, lawmakers and the commander of U.S. Space Command expressed concern about SpaceX's recent announcement that it would start limiting Ukraine's use of the company's Starlink constellation. 
"I was personally disappointed to see discontinuation of full services at such a critical time for Ukraine self-defense," Sen. Mark Kelly, D-Ariz., told Space Command's Gen. James Dickinson. "Do you feel there's a connection between the availability of this capability to our partners in Ukraine in this conflict, and relationships we have with companies like SpaceX?" 
Dickinson answered matter-of-factly: "Yes."
The Pentagon's relationship with SpaceX has only grown since DARPA's 2005 Falcon program  helped the company get off the ground. The military, already a large customer of Starlink services, is planning a vast expansion of battlefield communications that depends on cheap commercial satellite communications.
At a Senate Armed Services Committee hearing, Dickinson described the importance of commercial satellites as a key lesson of the Ukraine war. 
"There's no question that SpaceX's Starlink system has been used extensively by Ukraine and its response to the Russian aggression," he said. "I think this demonstrates that commercial space capabilities can play a significant role in our modern high-intensity conflicts."
So what happens if SpaceX executives decides to stop supporting certain U.S. military operations in the heat of conflict, as they did with Ukraine? 
Dickinson said that the Pentagon needs to make sure that all sides understand their legal obligations and have a full understanding of the military's expectations before those moments occur. 
---
Don't miss:
"The concerns I think SpaceX representatives recently expressed about Ukraine's use of Starlink highlight the importance of shared understanding between commercial service providers and their customers and users. So these issues, in my mind, bear on contracts and all operational domains, not just specific to space," he said. 
Dickinson said the Pentagon is trying to figure out how to promote this shared understanding with satellite contractors—and how to enforce its provisions. 
"There is an initiative that is working right now within the [Defense] Department, within the Space Force, that is actually looking at what you just described there. How do we make sure, during times of conflict, that if we're relying on commercial companies for certain services that they'll be available to us?" he said.
Dickinson pointed to the 1952 the Civil Reserve Air Fleet, or CRAF, program as a possible model for contracts that ensure that SpaceX and other companies don't impose their own policies on Pentagon's battle needs during times of war. Under CRAF, airlines voluntarily commit their airlift resources to Pentagon use under specific circumstances, but the Pentagon makes the decisions and has authority on how to use the aircraft. 
In virtually any contract negotiation with the Pentagon, SpaceX would have considerable leverage. The company accounted for a large portion of the rockets launched from the United States last year. And Dickinson expressed deep worry about the pace of China's launches. 
"In 2022, last year, there were 186 space launches. Of those, 64 were Chinese. The [United States] was 87," he said—including 61 by SpaceX.
Most Americans probably aren't aware of how quickly the Chinese space program is maturing, or how many space-based capabilities, such as navigation, intelligence collection, etc., China now has in orbit.  
"They have accurate position navigation and timing capabilities worldwide. If you look at the number, just the sheer number, of satellites that are in orbit and what their intended use is, everything from ISR satellites, to communication satellites to [position, navigation, and timing] satellites," he said. "We are still the best in space but what we need to make sure is that that gap does not close."