GAO: DOD needs better guidance, resources for contested information environment training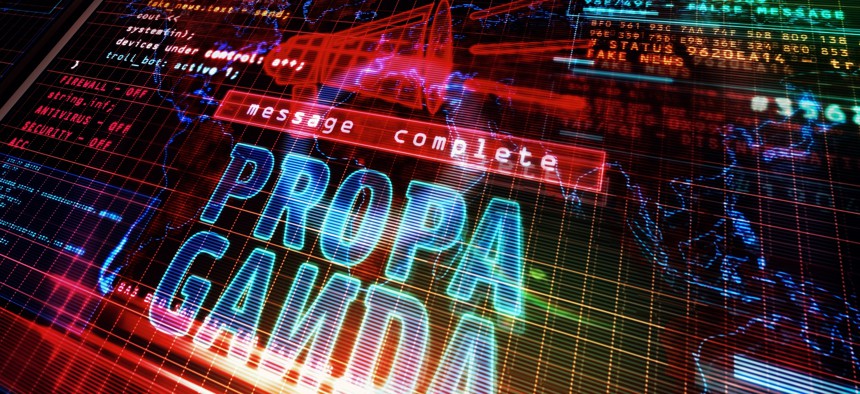 The Defense Department needs to improve its education and training on how leaders should navigate a world increasingly affected by disinformation, misinformation and propaganda with more guidance and potentially more resources, the Government Accountability Office said in a new report released Thursday.
The report focuses on DOD efforts to train leaders on how to make decisions in environments where information is "contested," such as traditional domains like air, land and sea, but also new ones like space and cyberspace and the electromagnetic operational environments linking them. Being able to operate in these environments, where information is a target, is something that is increasingly important to defense officials. 
Christopher Maier, currently the assistant secretary of defense for special operations and low-intensity conflict, told lawmakers in 2021 that "adversary use of disinformation, misinformation and propaganda poses one of today's greatest challenges to the United States, not just to the Department of Defense."
DOD already has some training for leaders to make decisions in potentially compromised or destroyed information environments, the report said. But beyond training, current guidance on decision-making is limited by differences in doctrine and definitions across the body of work. 
GAO noted that the DOD has efforts underway to improve this situation by issuing joint doctrine and updating department-wide strategy, but the report said that DOD components aren't clear about what content to cover in the training on decision-making because the guidance on that training isn't specific about what to include.
A 2019 Chairman of the Joint Chiefs of Staff memorandum requires that information environment content be covered in military education programs, but according to the GAO, it does not specify what aspects should be in the coursework.
The memorandum is set to expire in 2023 and is not currently expected to be renewed, meaning that some education programs may continue to teach contested information environment curriculum, but others may not.
Some officials also have limited resources for training, making it difficult to create realistic testing environments, for example, and GAO states that "DOD has not assessed or comprehensively reviewed component assessments of resources."
Doing so is one recommendation GAO makes in the report, along with a recommendation to develop department-wide guidance on what content training should include and the type and frequency of that training.
"Until DOD develops guidance and assesses its resources, it will lack assurance that it will be able to educate and train leaders to prepare them to make decisions in a contested information environment," the report said.
DOD said in response included that it will develop department-wide guidance on what content to include in education and training efforts for decision-making in a contested information environment, and that it will also look at resources needed to do so.